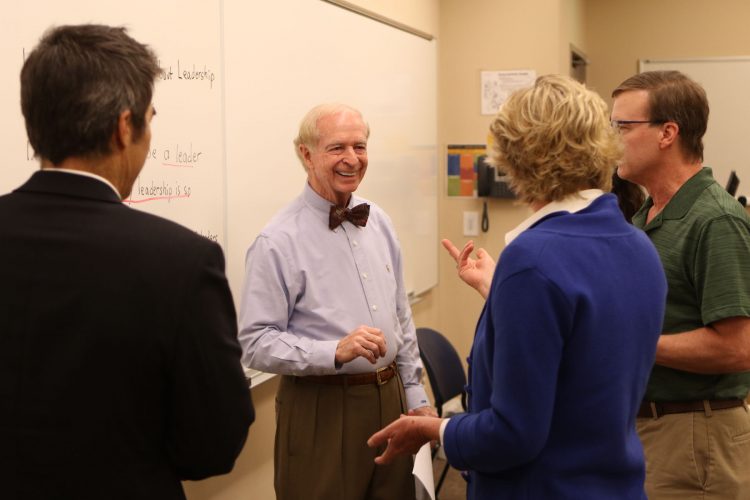 For Don Warrick, every day is an opportunity to bring out the best in others.
The management and organization change professor of more than 47 years challenges his students to do the same.
"Imagine if you got up every day and your number one goal, on top of everything else you needed to do, was to bring out the best in other people," Warrick said. "It would change just about everything."
Warrick is an educator, consultant and author specializing in the development of high impact leaders, high performance organizations and teams, managing change and building culture.
"I love the field – it's designed to improve the health and effectiveness of organizations, teams and individuals," Warrick said.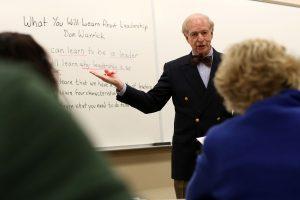 In the past five decades, he's worked with more than 150 Fortune 500 and international companies as well as medium and small size organizations, government agencies, universities and non-profit organizations. He's published nine books and more than 90 articles, book chapters and professional papers.
For his work throughout his career, the Organization Development Network Association presented Warrick with the Lifetime Achievement Award Oct. 20 in Alexandria, Virginia. The award is presented to individuals with "significant and lasting impact on the field and practice of organization development."
"I was elated, it's an international award voted on by colleagues across the world," Warrick said. "I said this in my acceptance speech – my wife, Anna, should be sharing this award because she's been involved in literally everything I've done. She's my greatest inspiration and I absolutely wouldn't be where I am today if it wasn't for her."
Warrick received the Distinguished Educator Award from the Academy of Management earlier this year for "exceptional contributions to organization development and change education, scholarship, and practice." Over the years, he's been named Outstanding Organization Development Practitioner of the Year, Outstanding Human Resources Professional of the Year, Best Professor in Organizational Development, and the David Bradford/McGraw-Hill Educator of the Year.
"Don is one of our most distinguished faculty members and we are very proud of him here in the college," said Stephen Ferris, dean, College of Business. "We are so pleased with this national recognition of his numerous contributions to the practice of organizational management and leadership."
Warrick plans to stay active in the field and hopes to take it from being focused on practitioners and academicians to being a skill every leader should learn.
— Photos by Tom Kimmell