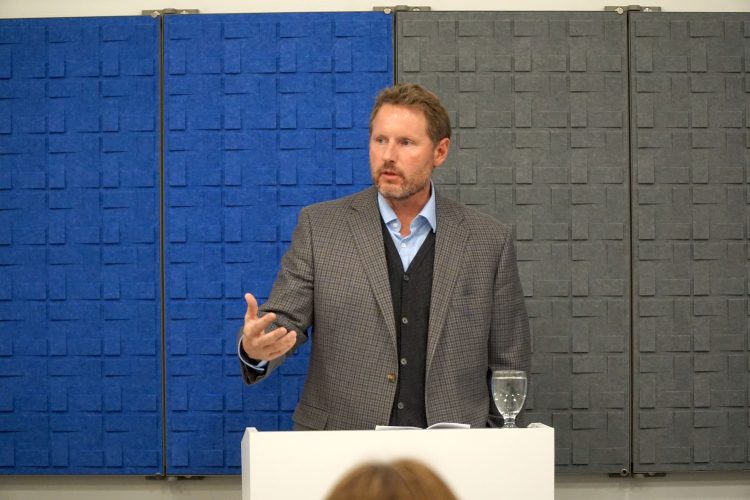 With ballots in the mail across Colorado and the midterm elections less than two weeks away, Josh Dunn, chair and professor, Department of Political Science, shared his insight on the historical trends and modern factors that could impact the 2018 election season as the inaugural lecturer for the UCCS Downtown Speaker Series.
Dunn's insight is often used by media outlets on how the latest polls and events could impact elections. He is the author of three books, his most recent being "Passing on the Right: Conservative Professors in the Progressive University" with Jon Shields that was published by Oxford University Press in 2016.
"The president's party almost always lose seats in the midterm elections," Dunn said to the crowd at UCCS Downtown. "This is just a feature of American politics. Since 1934, there have only been three where the president's party has gained seats in the House of Representatives. In the senate, there have only been five elections."
Dunn shared the historic reasons why the president's party often experience those losses:
Presidents often take larger political risks early in their term which impact their party during midterm elections but can recover by their own reelection two years later.
The rise of the two-party system by the 1830s also created a permanent opposition group to the president's party that will motivate that party in the midterms.
The evolution of the presidential primary system encouraged candidates to make promises to win the nomination. But with checks and balances and separation of powers, presidents can't fulfill all those promises when they take office and it can demotivate the base.
For the 2018 elections, Dunn outlined a variety of factors that could ultimately impact the control of Congress. The president's popularity and policies, the ongoing Mueller investigation, the economy and Supreme Court nomination are all likely to motivate parts of each party and make it hard to predict the impact of each until election night.
"Since the Kavanaugh nomination, the polls have been pretty volatile," Dunn said. In the House of Representatives, "it looks like Republicans might have closed the gap with the Democratic party on the generic ballot, but you can also see some that indicate Democrats have a substantial lead on the generic ballot." He expects Republicans to maintain control of the Senate.
Dunn is the director of the UCCS Center for the Study of Government and the Individual. His areas of interest for teaching and research involve public law, education policy and political theory. He was a fellow in contemporary history, public policy and American politics at the Miller Center of Public affairs in Charlottesville, Virginia.