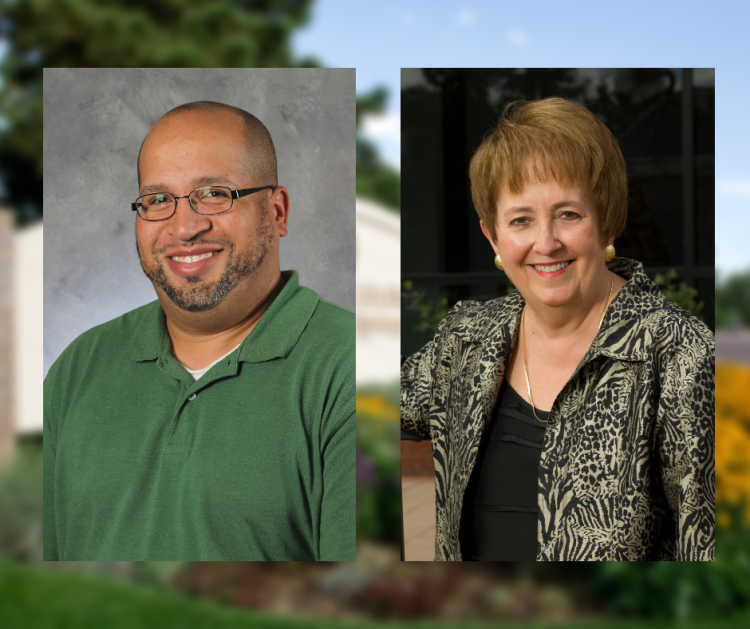 Christopher Bell, associate professor, Department of Communication, and Pam Shockley-Zalabak, chancellor emerita, will be two of the 13 members for the Presidential Search Advisory Committee, announced Oct. 24 by the CU Board of Regents. The two will formally receive their charge at the next regular board meeting Nov. 8 at UCCS.
"We're pleased to have an engaged, diverse committee that represents CU's key constituents, both inside and outside the university," said Sue Sharkey, chair of the board. "Selecting the next CU president is a critically important task and we feel we have the right people involved."
Bell is the director of graduate students for the communication department and was the 2015 recipient of the UCCS Faculty Award for Outstanding Contribution to Diversity and Inclusiveness. He is the UCCS faculty representative on the committee. Bell is a TED speaker and a diversity and inclusiveness consultant for Pixar Animation Studios. He is the 2017 recipient of the David Letterman Award as a media scholar and the Denver Comic Con Popular Culture Educator of the Year.
Shockley-Zalabak was the chancellor at UCCS for 15 years and retired in February 2017 after more than 40 years at the university. She is one of four community members on the committee. During her tenure, she oversaw an enrollment growth of 75 percent, development of new academic programs and a $500 million expansion in campus facilities. Shockley-Zalabak is currently the president of CommuniCon, Inc., and is the author of nine books and more than 100 other publications and productions.
The search committee is chaired by Regents Heidi Ganahl and Irene Griego, and membership of the committee is outlined in Regent Policy 3 (E). Bell and Shockley-Zalabak will be joined by:
Faculty representatives: Tom Cech (CU Boulder); Joanne Addison (CU Denver); Laura Borgelt (CU Anschutz Medical Campus)
Dean representative: Bobby Braun (CU Boulder)
Staff representative: Corey Edwards (CU Denver)
Student representative: Alex Holmgren (CU Boulder)
Alumni representatives: Brian Davidson, Frank McNulty
Community representatives: Cy Harvey, Jake Zambrano, Ben Ochoa
The committee will assist the Board of Regents, which is responsible for naming the next president. Bruce Benson announced that he plans to retire from CU in July after 11 years at the helm. He is the longest-serving CU president in 65 years.