Housing, arts and gentrification will be the subject for discussion in the next Prologue series event in collaboration with the Colorado Governor's Office at 2:30 p.m. Sept. 30 at the Dusty Loo Bon Vivant Theater. Kevin Landis, associate professor and program director of Theatre and Dance, will moderate the panel before the performance of "Raisin in the Sun" at 4 p.m.
The panel will include retired Air Force Gen. Irv Halter, executive director, Colorado Department of Local Affairs; Malik Robinson, executive director, Cleo Parker Robinson Dance Company; and Susan Edmonson, president and chief executive officer, Colorado Springs Downtown Partnership. Chancellor Venkat Reddy will introduce a video from Colorado Governor John Hickenlooper, who Landis interviewed at the capitol Sept. 14 for the Prologue event.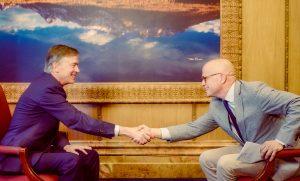 "Collaborating with the Governor's Office is a real milestone for Prologue," Landis said. "We have a proven track record of producing events with broad appeal, from talks with Allison Janney to Brian Dennehy. Here, we are diving into critical discussions that are immediately relevant to the social and political life of our community and state. We are honored that the Governor and his staff have committed to partner with us on this talk."
The conversation will focus on the housing crisis in Colorado and the desire to create creative districts in cities and towns. The challenges of gentrification will be discussed: how does an artistic district encourage cultural diversity while avoiding gentrification and pricing-out the artists who help add to that diversity?
"The ethos of the Visual and Performing Arts Department is an integration of arts and a commitment to university and community connections," Landis said. "Working with Johnny Mancini, a UCCS film studies student, for a Lecture Series affiliated with the Theatre and Dance program, and with a Theatreworks event that directly engages the Colorado Springs community, is a perfect encapsulation of our goals."
Prologue is sponsored by the Chancellor's Office, Theatreworks, the Department of Visual and Performing Arts, and the College of Letters, Arts and Sciences. The series consists of theatre talks, performances and hands-on workshops with national theater leaders throughout the academic year.