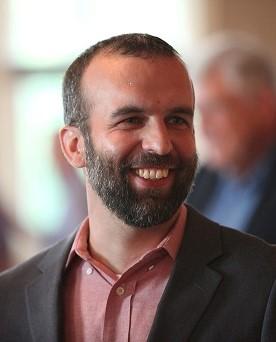 Joel Tonyan joined the Kraemer Family Library in 2014 with research interests in information seeking behavior and social media analytics.
His recent book chapter publication "Using Analytics to Assess Your Social Media Marketing Efforts" appears in "Using Digital Analytics for Smart Assessment." His article "Discovery Tools in the Classroom: A Usability Study and Implications for Information Literacy Instruction," co-authored with Christi Piper, will appear in the "Journal of Web Librarianship." This study shows that although library search interfaces are growing easier to use, students continue to struggle with basic research skills such as keyword development and the evaluation of search results.
Currently, Tonyan is completing a bibliometric analysis of "Geographic Review" with Emily Skop and Arielle Cassiday to determine how the journal explored the topic of refugeeism over the past century. Tonyan received his M.A. in English from the University of Arkansas and M.L.I.S. from the University of Oklahoma.
Editor's Note: This is part of a regular series of faculty members coordinated by the UCCS Office of Research. Questions, suggestions, or comments about Faculty at Work? Would you like to nominate someone to be featured? Email [email protected].