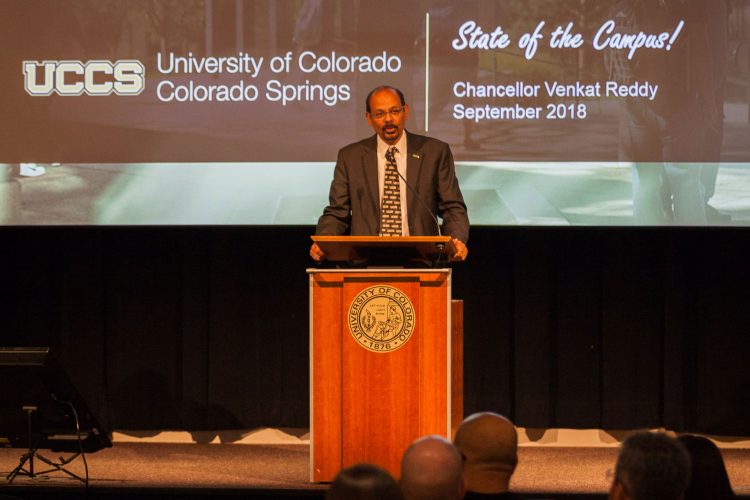 Chancellor Venkat Reddy highlighted the success of the university's enrollment and economic impact, the ongoing projects and initiatives, and the challenges that the campus will face in the coming years during his first State of the Campus address to faculty and staff Sept. 20 in Berger Hall.
Colorado Springs Mayor John Suthers, a life-long city resident who taught criminal justice courses for five years, provided remarks to the campus ahead of his own State of the City address Sept. 21.
"I've seen UCCS grow from its very humble beginnings to the powerhouse institution it has become," Suthers said. "We're now at the point at UCCS is approaching $600 million in annual economic impact for our region. It's not unrealistic to believe that in a few short years, the university's annual impact will surpass $1 billion."
In the past year, four new facilities opened. The university was recognized as a Great College to Work by The Chronicle for Higher Education, achieved a 4.5 on the Campus Pride Index and gold status and ratings by Military Friendly Schools and the STARS Sustainability program.
Enrollment grew to 12,574 students with a 2.5 percent increase in retention among first-year students. As enrollment has grown each of the last 12 years, it's placed a strain on infrastructure, staffing and retention, Reddy said.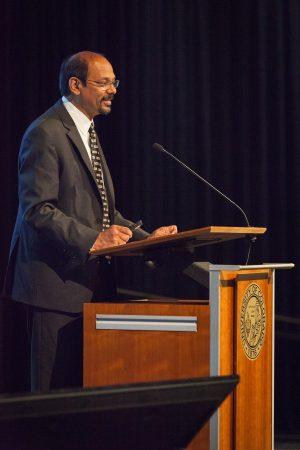 "We will transition from an aggressive growth model to a smart growth model," Reddy said. "We will continue to find new ways to grow as we increase our emphasis on retention and graduation."
In cybersecurity efforts, UCCS received $1.8 million for academic programs and scholarships in Colorado Senate Bill 18-086. Cybersecurity initiatives involve a 22-school, four-state cyber consortium and a university partnership with Cisco to further build out programs.
Reddy outlined steps in the 2030 strategic planning process with campus engagement activities already underway with small groups. The plan is projected to be finalized by January 2020 with three-year renewal sessions.
"This is a dynamic plan, not a static plan," Reddy said. "Teaching, research and service will remain at the heart of everything we do. We will teach our students how to think, not what to think."
Reddy also looked at challenges that UCCS will face in the future. In addition to growth-related challenges, the university will look at how it responds to academic freedom and free speech concerns, diversity and inclusion efforts, and student mental health support.
"We will commit to respecting each other," Reddy said. "I believe great things are in store for this campus. We will establish ourselves as a very key university, not just in Colorado, but beyond."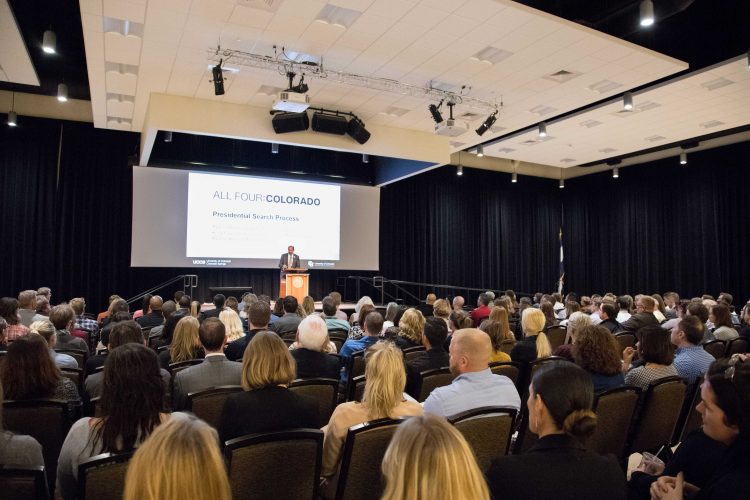 –Photos by Jeff Foster and Savannah Waggoner.