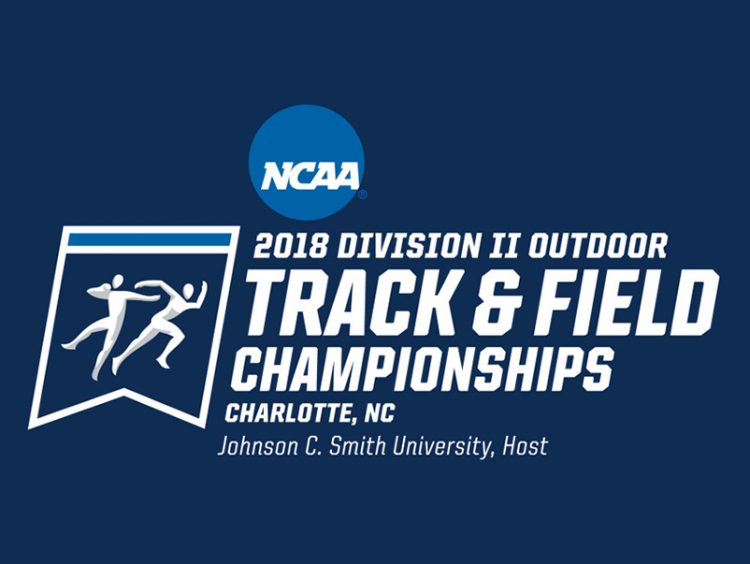 A record 11 student-athletes will compete for national titles in nine events at the 2018 NCAA Division II Outdoor Track and Field Championships May 24-26 at the Irwin Belk Track Complex in Charlotte, North Carolina.
Skylyn Webb will be the favorite in the women's 800-meter run with the top time in the nation at 2 minutes, 4.57 seconds. She was the RMAC Track Athlete of the Year and finished third in the same event at the indoor national championships. Webb was the conference champion in the 400-meter dash this season.
Caleb Simons will compete in three events for the men's team in the 200-meter dash, 400-meter dash and 4×100-meter relay. He was an All-RMAC First Team performer in all three events and won the conference championship in the relay with Johnathan Douglas, Deshon Elcock and Chris Smith. The relay has the fifth-fastest seed time among qualifiers with an altitude-adjusted 40.42 seconds.
The women will field multiple student-athletes in the 1,500-meter run and long jump. Molly Klotz and Kayla Wooten will compete in the 1,500-meter run. Klotz has the seventh-fastest time among qualifiers at 4:24.78 and Wooten was an All-American in the indoor mile in 2017.
Hannah Meek qualified for the long jump in the final meet of the regular season with 19-8 ¼, and Kaija Crowe earned her trip after a runner-up performance at the RMAC Championships April 27 with the same mark. Crowe will also compete in the heptathlon after she won the conference championship.
A pair of freshmen, Sierra Suazo and Kayla Zink, will round out the Mountain Lion competitors. Suazo qualified in the discus throw with 159-8 and has the fourth-best mark among freshman qualifiers. Zink will compete at the national level for the second time this year in the 100-meter dash after she earned three all-conference awards in the sprint events at the championships. She finished No. 15 in the 60-meter dash at the indoor championships in March 2018.
The championship races, and certain preliminary events as the schedule allows, will be broadcast live on NCAA.com.
UCCS Schedule of Events (all times Mountain Daylight Time)
Thursday, May 24
9 a.m. – Women's heptathlon begins (Crowe)
2:50 p.m. – Men's 4×100-meter relay preliminaries (Simons, Douglas, Elcock, Smith)
3:25 p.m. – Women's 1,500-meter run preliminaries (Klotz, Wooten)
3:30 p.m. – Women's long jump (Crowe, Meek)
3:40 p.m. – Men's 400-meter dash preliminaries (Simons)
4:10 p.m. – Women's 100-meter dash preliminaries (Zink)
Friday, May 25
8:30 a.m. – Women's heptathlon continues (Crowe)
3:35 p.m. – Men's 200-meter dash preliminaries (Simons)
4:20 p.m. – Women's 800-meter run preliminaries (Webb)
Saturday, May 26
1:25 p.m. – Men's 4×100-meter relay finals (Simons, Douglas, Elcock, Smith, pending preliminary results)
1:55 p.m. – Women's 1,500-meter run finals (Klotz, Wooten, pending preliminary results)
2 p.m. – Women's discus throw (Suazo)
2:25 p.m. – Men's 400-meter dash finals (Simons, pending preliminary results)
2:55 p.m. – Women's 100-metr dash finals (Zink, pending preliminary results)
3:15 p.m. – Women's 800-meter run finals (Webb, pending preliminary results)
3:50 p.m. – Men's 200-meter dash finals (Simons, pending preliminary results)