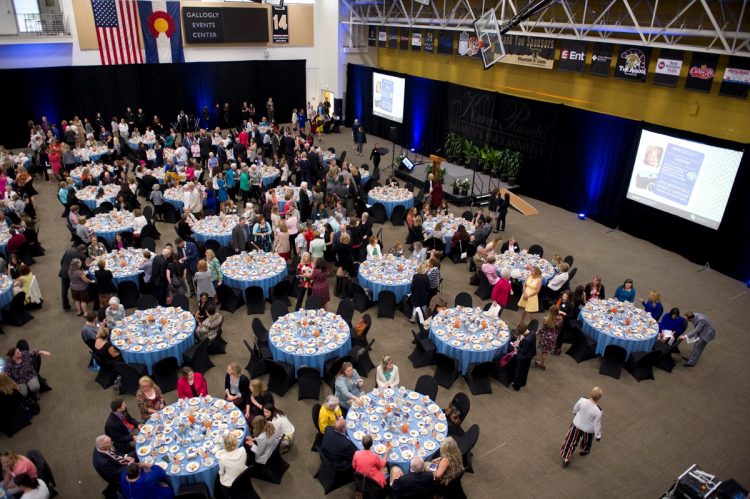 The success of seven women, who overcame multiple obstacles to earn a UCCS degree, was celebrated during the 14th Karen Possehl Women's Endowment Unstoppable Women's Luncheon May 15. Contributions from the event's 400 attendees and sponsors, along with community partnership efforts and annual gifts throughout the spring raised $136,000 for the KPWE Scholarship Program.
"It's amazing the things these women have done," Possehl said. "I have never seen a community come together the way Colorado Springs has. Not just for our scholarship, but for the whole university. It's unbelievable."
Elizabeth Watts, weeknight co-anchor for KOAA News 5, served as the master of ceremonies for the event, which featured the presentation of the Unstoppable Woman Award to Pam Shockley-Zalabak. She retired as UCCS chancellor in 2017.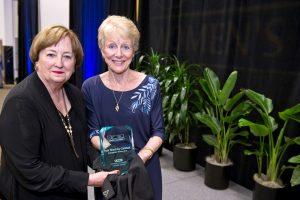 "I'm honored to be this year's Unstoppable Woman," Shockley-Zalabak said. "However, I want you to honor yourself by never stopping, never giving in, and striving more than you ever thought possible. KPWE is a superior example of what we can be when you unite a university and its community. We need to come together, whether we are young or old or somewhere in between. Uniting to work on the challenges and the opportunities of our times brings out the best in all of us, and makes us truly unstoppable."
KPWE provides financial assistance and mentor support for nontraditional UCCS students who are starting or returning to college after having overcome significant personal adversity. In addition to providing tuition assistance, KPWE matches scholars with community mentors who offer encouragement and professional contacts. The program provides soft-skills and career-focused workshops giving students the chance to learn more outside the classroom.
"Each KPWE scholar follows the footsteps of unstoppable women who have made quite a difference in our community," said Chancellor Venkat Reddy. "An unstoppable woman is a woman who has a vision for, and takes action on, what is possible to improve the greater community, and pursues when the odds don't seem to be in their favor."
The KPWE Unstoppable Women's Luncheon was made possible through the sponsorship of Winslow BMW of Colorado Springs, Nancy Lewis and Lyda Hill, Ent Credit Union, El Pomar Foundation, Penrose-St. Francis Health Services, Boettcher Foundation, Brady-Brook Donor Advised Fund, City of Colorado Springs Department of Economic Development, Vladimir Jones and the Southern Colorado Women's Chamber of Commerce.
Since the establishment of KPWE in 1996 by Karen and Jim Possehl, 182 scholarships have been awarded. Gifts to grow the endowment can be made online or by calling (719) 255-5100.
–Photos by Chuck Bigger