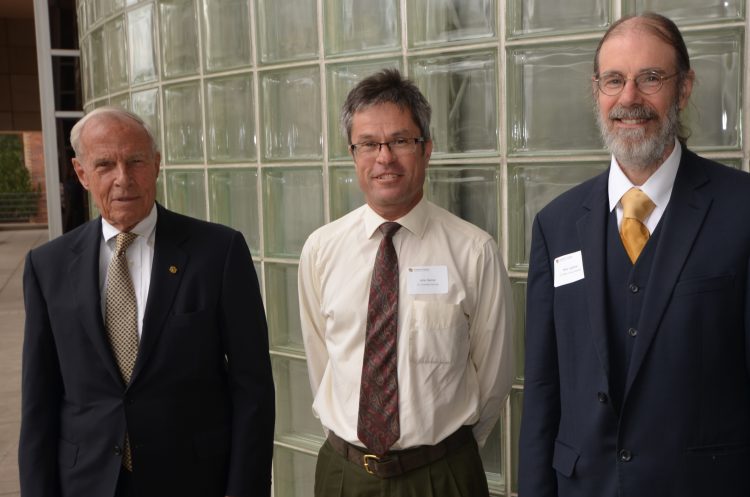 John Harner, a champion for a strong public education system that incorporates a broad interest in literature, arts and sciences, earned recognition for his service and leadership as the faculty recipient of the 2018 University of Colorado Thomas Jefferson Award. Harner, a professor of geography and environmental studies, was recognized along with the staff and student recipients at the CU offices May 9.
"I am truly honored to receive this award because it reflects my ideals concerning the value of a liberal education and the need for citizens to engage with the places they live," Harner said. "It is a privilege to work in a public university that produces critical thinkers and adds enormous value to society. I appreciate this recognition.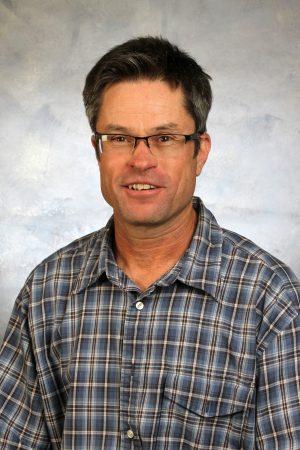 "I believe that universities are not merely job training programs, but must be grounded in the liberal arts, sciences and humanities. We produce a public good, and an informed and engaged public is required for democracy to function."
A faculty member at UCCS since 1997, Harner was the driving force for the department's first standalone master's program in applied geography and served as the department's first graduate director for seven years. He was department chair for six years and received the UCCS Innovations in Teaching with Technology Award in 2002. Harner was a Fulbright Scholar at the Universidad de Guadalajara in Mexico in 2005 and is a member of the Board of Directors for the Catamount Center.
"In a way, he is the department 'workhorse' – and that work is done without fanfare or self-promotion of any sort," wrote Tom Huber, professor, Geography and Environmental Studies, in his nomination letter. "He influences his students to get involved with their communities by engaging them with all levels of government and non-governmental institutions in the region."
Harner worked with the City of Colorado Springs' Pioneer Museum to create the "Story of Us" exhibit that opened in 2017. He worked with students and the Bureau of Land Management for a plan at the Browns Canyon National Monument that opened in 2015. Harner is also a member of the Colorado Springs Downtown Partnership and has worked with city and county leaders on improving local development projects.
"John Harner exemplifies everything we value in our faculty at UCCS," said Chancellor Venkat Reddy. "He is deeply committed to the success of our students, he takes great pride in his research and he is an active member of the campus and local community. John doesn't seek the spotlight, but his work has set him apart and made him worthy for this recognition."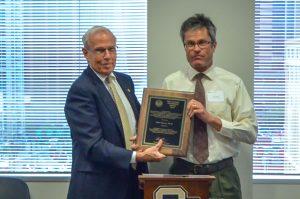 Harner was honored along with Julia Willis, assistant director, Student Academic Success Center at CU Boulder, and Ligia Batista Silverman, a student in the CU Boulder post-baccalaureate health professions program. The awardees were chosen for embodying and advancing the ideals of Jefferson, the third U.S. president and a Founding Father who greatly influenced American arts, sciences, education and public affairs.
The annual Jefferson Award recognizes CU faculty, staff and students who demonstrate excellence in the performance of regular responsibilities at the university while also contributing noteworthy service to the broader community. Each of the winners were recognized for their broad interest in literature, arts and sciences, and public affairs; strong concern for the advancement of higher education; deeply seated sense of individual civic responsibility; and profound commitment to the welfare and rights of the individual.
The Thomas Jefferson Award was established at the University of Virginia in 1951 by the Robert Earll McConnell Foundation to honor teaching faculty who exemplified the humanistic ideals associated with Jefferson. By 1962, six other institutions – including CU – had established a Jefferson Award. In 1980, the university added a student category; in 1988, the staff category was approved. Funding for the awards is derived from earnings on an endowment provided by the McConnell Foundation and from a bequest by Harrison Blair, a CU alumnus.