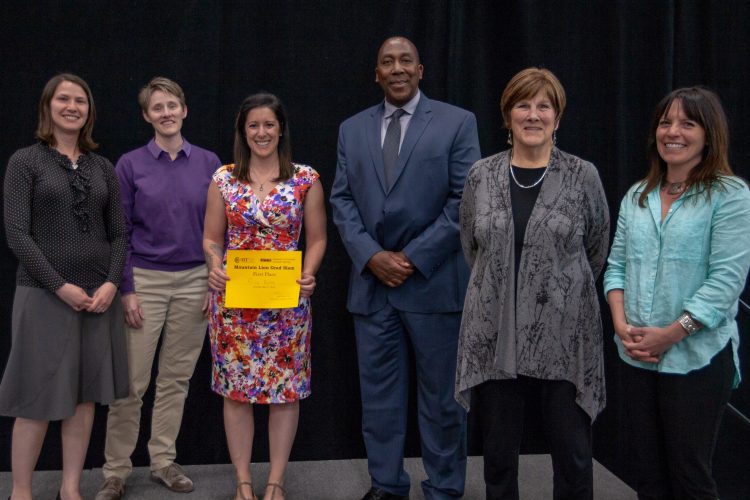 A graduate thesis often takes months or years of research. Once it's ready, students will sometimes take up to two hours to defend it in front of a committee of graduate faculty who are already specialists in that field.
Eight UCCS students didn't want to stop there. They took the challenging process one step further and signed up to present their research in three minutes to a panel with only limited knowledge of their subject during the inaugural Mountain Lion Grad Slam 3MT competition. Alisa Bartel, a graduate student in psychology, won the top prize with "Different Not Damaged" during the finals May 4 at the Gallogly Events Center.
Bartel won the $750 top prize after she qualified as one of five finalists. Claire Trotter, a biology student, won second place with "Lowering Skin Temperature Improves Blood Loss Tolerance Following Exercise in Heat" and won the $500 prize. Patrick Yarbrough, a physics doctorate student, earned the People's Choice Award and a $250 prize with "Excitation of Spin Waves in a Magnetic Nanowire."
Participants were limited to a strict three-minute time limit and one static PowerPoint slide. A panel of UCCS faculty and staff served as the evaluators for each round.
The competition is based on the "Three Minute Thesis" established in 2008 by the University of Queensland in Brisbane, Australia. The goal is to develop the skill to effectively explain the significance of their research to those who aren't experts in their area