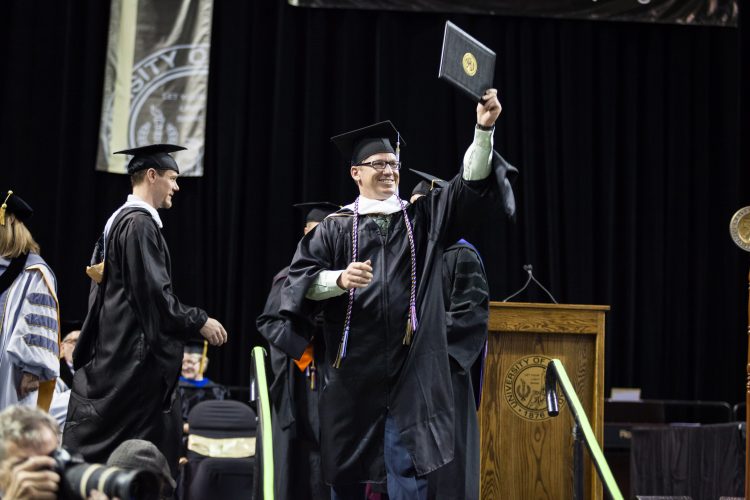 UCCS conferred degrees to 1,433 students and more than 10,000 family, friends, faculty and staff joined the graduates in a pair of ceremonies May 11 at the Broadmoor World Arena. More than 1,100 participated in the ceremonies, a record for the campus commencement activities.
Commencement Photos and Video 

Media Coverage
"The challenges of our world are ever present," Chancellor Venkat Reddy told the graduates. "As individuals, we must embody the values of the university in our personal and professional lives. We ask our graduates to do the same. We will engage in civil discourse protecting the university and society as a forum for the free expression of ideas leading to new knowledge and new ideas. We will use our differences and agreements to advance our community, nation and the world. Our principles are the foundation of how we address both challenges and create progress."
UCCS awarded 16 doctoral degrees, 297 master's degrees and 1,120 bachelor's degrees. Among the graduates included the first cohort in the inclusive elementary education program.
Nayda Benitez, an undocumented student, addressed the crowd during the morning ceremony. Justin McConnell, a student that took seven years and earned his degree on his third attempt, spoke at the afternoon ceremony.
"I hope you move forward in life being courageous enough to be vulnerable and to share your experiences with others," Benitez said. "And remember, courage is not the absence of fear." She received a standing ovation from most of the graduates on the floor at the end of her remarks."
"Failure is a concept that you must grow to be comfortable with," McConnell said. "This does not mean that we must be complacent with failure. And it does not mean that we have to invite it. But we must anticipate how we react to it."
The CU Board of Regents recognized the lifetime accomplishments of Mary Osborne with the University Medal and Jay Cimino with the Distinguished Service Award. Kyle Hybl and Stephen Ludwig also delivered the Norlin Charge to the graduates, a CU tradition dating to 1935. CU President Bruce Benson also provided his thoughts to the graduates as they begin the next phases of their lives.
UCCS also recognized three members from the Class of 1968 who returned on the 50th anniversary of their graduation. CU did not offer a commencement ceremony at the Colorado Springs campus when Caroline Jackson, Mary Moorhouse and George Schimmack earned their degrees, and could only participate at the CU Boulder ceremony. The anniversary marked an opportunity for the three to participate in the ceremony on their home campus.
In addition to sign language interpreters and real-time text services for deaf and hard of hearing attendees, UCCS also offered Spanish translation services for the first time for a limited numbers of guests.