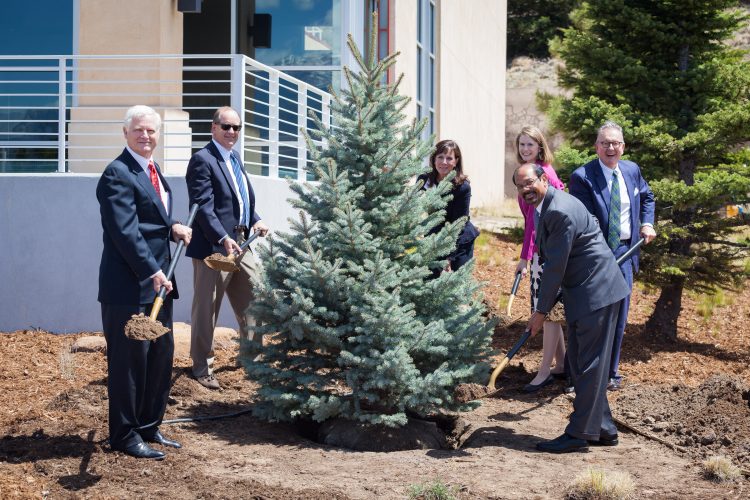 As UCCS alumnus Jim Gallogly prepares to assume the presidency for the University of Oklahoma system, members of the CU Foundation Board of Trustees and UCCS administration marked his final trustees meeting with the planting of a Baby Blue Spruce. The small ceremony took place May 4 near the namesake Gallogly Recreation and Wellness Center.
In addition to the recreation and wellness center, Gallogly and his family have supported UCCS with the Gallogly Events Center, Gallogly Endowed Chair in Cybersecurity, the Chancellor's Leadership Class Endowed Scholarship, the Karen Possehl Women's Scholarship Endowment in honor of his mother, Margery, and the Tommy M. Gallogly Reach Your Peak Endowed Scholarship in honor of his father. The family has also contributed to CU Boulder with the Gallogly Discovery Learning Center and the Robert H. Davis Endowed Chair in Discovery Learning within the College of Engineering and Applied Sciences.
"I learned how to say yes right here on this campus," Gallogly told the small crowd before the tree planting. "It was at a time when our family couldn't really afford to make a transformational gift. It was an uncomfortable thing for us to do at that point in our lives, but we said yes. And as we plant this tree and all that it symbolizes, I've looked out at this campus and seen what happened through those years when someone like me said yes. Sometimes that's a difficult thing to do. But if you have a bold plan, something exciting worth supporting, that yes is actually very easy and it feels very very good when you see the result."
Gallogly graduated with a psychology degree in 1974 and is one of three generations and more than a dozen individuals of the Gallogly family to earn degrees at UCCS. He served in executive roles with ConocoPhillips Chemical Company, and is the former chairman and chief executive officer of LyondellBassell.
Gallogly will become the president at OU July 1, 2018.