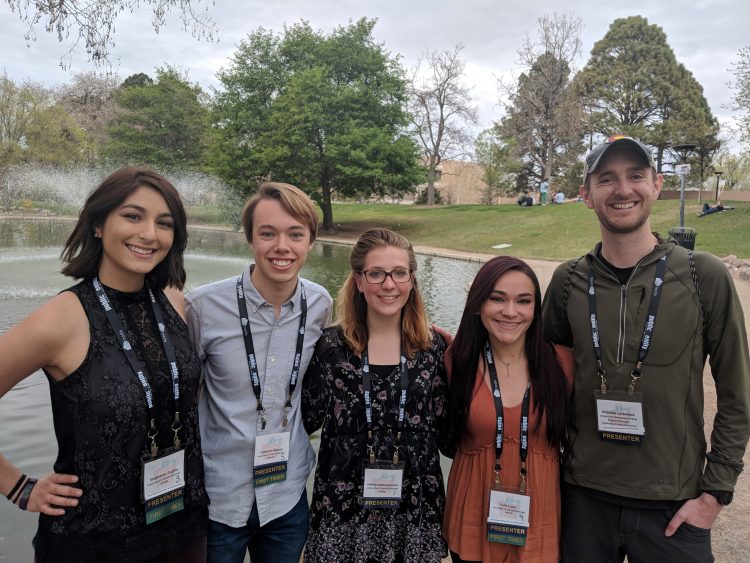 Hailey Santonastaso, a student orientation leader coordinator, and Nick Lockwood, director, orientation and new student outreach, placed first at the region three conference of the National Orientation Directors Association April 6-7 in Albuquerque, New Mexico. The pair will present again at the national conference in October in San Diego, California.
Santonastaso and Lockwood presented "The Line King: Leveraging Disney's theme park experience to turn orientation waiting lines into a productive, educational and community-based experience." Using the concept at major theme parks where they have made the waiting part of the ride experience, the duo shared concepts of how to make the best use of time spent when students are waiting in lines for orientations, campus kickoff events or information sessions.
The presentation was selected as the regional showcase winner among schools from Colorado, New Mexico, Wyoming and Utah. The pair will present along with the showcase winners from the other eight regions at the national conference Oct. 21-24 in San Diego.
"We are absolutely honored to represent UCCS at a regional and national level," Lockwood said. "Hailey, the Orientation Welcome Leaders and our reservation team are the heart of our program, and I am immensely proud of their accomplishments. Orientation is a collective campus effort, and we are grateful for our campus colleagues and the passion they share in welcoming new students to UCCS."
Head orientation welcome leaders Feliz Luna, Cameron Stacey and Stephanie Trujillo also presented "A Student Orientation Leader's Guide to Teamwork and Workplace Pride" during the regional conference. The presentation shared UCCS methods for building strong team dynamics, pride and passion among the student leaders, and how the leader camaraderie directly impacts the experience for incoming students.
The first of 10 on-campus freshman orientation sessions begin April 14, and the first of 12 transfer orientations begin April 20. The orientation and admissions office will conduct 10 orientations for out-of-state students in California, Texas, Arizona and Hawaii starting April 21.