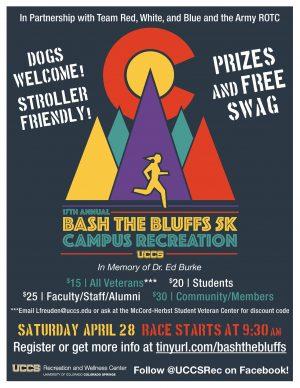 The 17th annual Bash the Bluffs 5K happens April 28 in memory of Ed Burke, a renowned researcher and former associate professor of biology at UCCS.
The annual run/walk raises funds for the Ed Burke Memorial Scholarship Endowment Fund, which provides merit-based scholarships for students studying exercise science at UCCS. Last year the 5K raised $2,250 in support.
"Dr. Burke served as a friend and mentor to many in the Campus Recreation Department and had great influence on the University and the athletic community. He tragically passed in 2002 while on a mountain bike ride due to a sudden heart attack," Brooke Freudenhammer, program coordinator, Gallogly Recreation and Wellness Center said.
Campus and community members are welcome to participate. There will be prizes for the male and female winners, including Nike Running beanies, heating pads, gift certificates and more.
"We love getting the community involved and bringing them to our beautiful campus for such a great cause," Freudenhammer said.
The race begins at 9:30 a.m. at the Gallogly Recreation and Wellness Center. Participants will receive a t-shirt and drawstring backpack with race goodies. The course is stroller and dog friendly.
Registration is open through 8 a.m. on race day. Registration for students costs $20, faculty, staff and alumni $25, and community members $30. Veterans can race for $15, email Freudenhammer for the discount code.