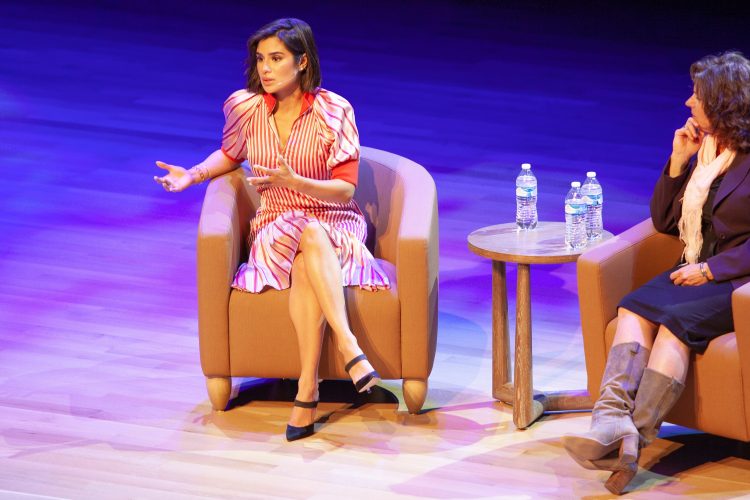 Diane Guerrero has been acting since 2011. She appeared her first large role in 2013 with the premiere of "Orange Is the New Black" on Netflix as Maritza Ramos.
But Guerrero didn't find her voice until she shared her story of her parents' deportation with an op-ed in the Los Angeles Times in 2014. Now a published author, Guerrero shared her story April 11 as the 2018 UCCS Significant Speaker in a moderated discussion with Andrea Herrera, associate vice chancellor, Inclusion and Academic Affairs.
"I was afraid people would judge me and I wouldn't get work, and that I was going to shoot myself in the foot," Guerrero told a crowd of more than 650. "But I saw a need for it, I saw these kids who were super brave, and I've always had this desire to be part of a movement and something bigger than me. I was determined to help in any way that I could."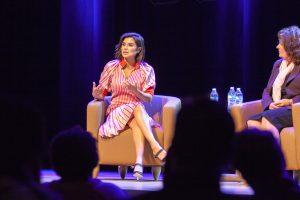 Guerrero's parents were detained while she was at school as a 14-year-old. A natural-born American citizen, she remained in the United States to complete her education. But she battled depression in college, and her therapist encouraged her to take acting classes. Even when she began to have success, she found herself not being honest with her past, and lying about her family in interviews.
"I just couldn't do that anymore," Guerrero said. "I felt the need to say something about what was going on in the country I love so much. I started with the op-ed, and that was very liberating."
Since then, she published a memoir "In the Country We Love: My Family Divided" that detailed her struggles after her parents were detained. Questions from the audience prompted discussions on immigration policy, intersectional feminism, acting roles and political involvement.
Before her appearance, Guerrero met with housing students with a grade point average of a 3.20 or greater during dinner. After her discussion, Guerrero met privately with Unidos, a UCCS student organization made up of undocumented students and allies. She later signed autographs and posed for pictures with hundreds of fans in the Murray and Betty Ross Lobby.
The Significant Speaker series is sponsored by the Office of Student Activities and the Office and Residence Life and Housing. Previous speakers have included Gabby Douglas, LeVar Burton, Neil deGrasse Tyson, Bill Nye, Bennet Omalu, Jerry Greenfield and Randi Zuckerberg.