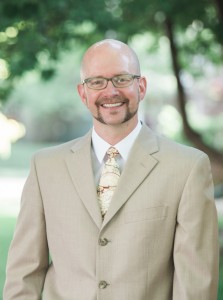 A reference services librarian and professor of library science at Dayton Memorial Library at Regis University in Denver will be dean of the UCCS Kraemer Family Library.
Martin Garnar was selected following a national search. His appointment was announced by Mary Coussons-Read, executive vice chancellor, Academic Affairs.
"Martin brings a breadth and depth of experience to UCCS which will undoubtedly take the Kraemer Family Library to the next level," Coussons-Read said. "His energy, innovative spirit, and collegiality are already evident and I know the campus and community will very much enjoy getting to know him in the coming months."
Since 1999, Garnar has been a faculty member at Regis University, a private, co-educational Roman Catholic, Jesuit University. He earned a master's degree in library and information services from the University of Denver, and a master's in modern European history and a bachelor's in history and geography from the State University of New York at Binghamton. His research and writing address ethics, intellectual freedom, and personal privacy in the digital age.
"I'm thrilled to be joining UCCS at this exciting time in its growth," Garnar said. "The Kraemer Family Library has an excellent reputation in the Colorado library community, and I look forward to working with everyone as we continue to build on our successes."
Garnar will replace Teri Switzer, dean, Kraemer Family Library. Switzer plans to retire in August following a 42-year career in academic libraries and seven years as dean at UCCS.
A ten-member search committee of faculty, staff and community members reviewed applications and made recommendations to Coussons-Read and Chancellor Pam Shockley-Zalabak. Garnar visited UCCS May 20.
Related articles