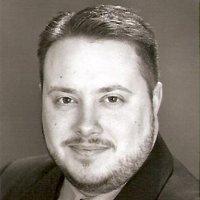 An 18-year higher education veteran with experience in event center management and conferences services is the new director of the University Center at UCCS.
Chad Garland, currently associate director of the Armstrong Center at Miami University, Oxford, Ohio, was selected following a national search. His appointment was announced by Drew Martorella, executive director, UCCS Presents. Garland will begin July 13.
As director, Garland will provide oversight of the daily operations of the University Center including Conference and Event Services.
"The University Center as well as Conference and Event Services play an integral part in the student experience, the entire campus family, and the greater community," Garland said. "I am excited to be joining and leading such a strong and impactful department. It seems to me that there really is something special about the UCCS experience and I am happy to be a part of it."
Since 2013, Garland worked as associate director of the Armstrong Center at Miami University, a 20,000-student public university in southwestern Ohio. There, he managed the daily operations of the 155,000-square foot Armstrong Student Center and assisted in the management of a $3.4 million annual budget. Previously, he was assistant director and university center manager, conference services coordinator and residence hall director at Central Michigan University, Mount Pleasant, Mich. He also held various student affairs-related positions at the University of Maryland, College Park, and Grand Valley State University, Allendale, Mich.
He earned a bachelor's degree from Ohio Wesleyan, and a master's from Grand Valley State University.
Garland replaces Megan Bell. Bell was recently promoted to a new position as executive director of auxiliary community and learning initiatives.