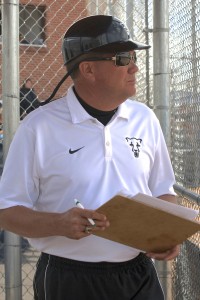 A national search began April 27 for a new head coach of the Mountain Lion Softball Team following the resignation of longtime coach Scott Peterson.
Peterson resigned April 26 after 15 years as head coach. Under his leadership, the team won more than 350 games, appeared in eight conference tournaments and produced nine All-American and two Academic All-American student-athletes.
"I would like to thank Scott for his hard work and dedication to the Mountain Lions the last 15 seasons," Steve Kirkham, athletic director, said. "We wish him the best of success in his future endeavors."
Peterson said:
"This has been a difficult decision, but one our entire family is excited about," Peterson said. "The opportunity to work full time with our very successful family business is just too good to pass up. I have loved coaching this sport for so many years and it has been incredibly rewarding.
"We have recruited wonderful student-athletes at UCCS and that is what makes me the most proud. I would like to thank all of the coaches I have worked with at UCCS as well as my longtime assistant, Don Pettrow, for his tireless work to keep this program successful. In addition, having two former players on staff was very rewarding as they truly 'gave back' to the program. My wife, Cathie, has been just as important to this program as I feel I have been. She has seen every game over the past 15 years and knows every player and their parents, she has been very supportive, and she too is excited about our new adventure.
"Chancellor Shockley-Zalabak trusted me to be the first full-time Head Softball Coach at UCCS and I can't thank her enough. Dr. Glenn Williams was the person who was a true mentor and supported me to take on this position head on and I miss him terribly. He continues to support UCCS athletics from above. To all of the players, you have been awesome and I know our friendship will continue. We will stay right here in beautiful Colorado Springs and look forward to seeing the continued growth of UCCS."
Related Posts