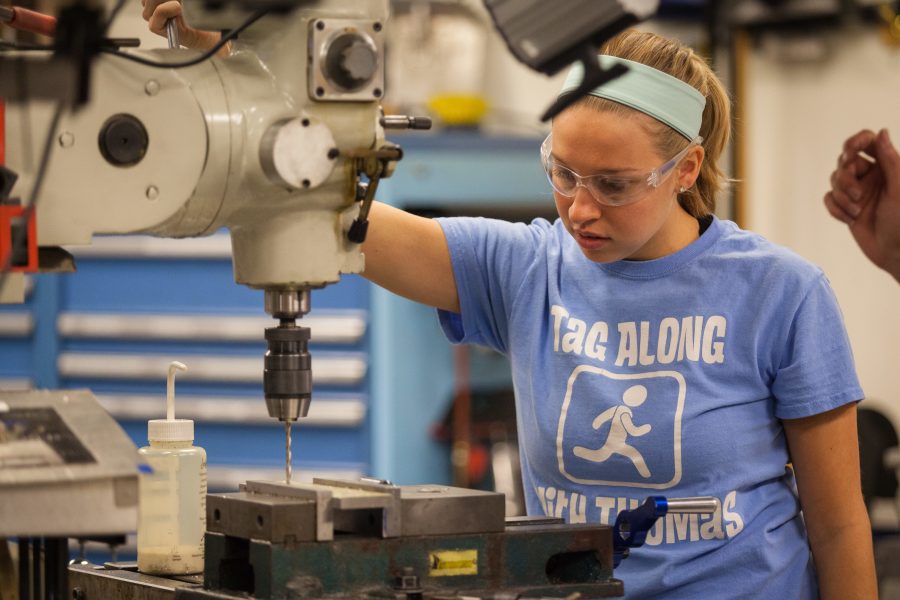 This summer, the University of Colorado Colorado Springs will launch the UCCS Stem Outreach Program, which will invite 24 high school students from underrepresented backgrounds to experience collegiate-level labs in chemistry, biology, biochemistry and human anatomy.
Created by Madison Fox, a UCCS senior graduating with a bachelor's degree in biochemistry in May 2022, the program will take place from July 18–20 on the UCCS campus and will be offered free of charge. It will encourage students to engage in STEM fields in the hope of inspiring a potential career in either medicine or in scientific research.
Fox has spent nearly three years designing the program. While her plans after graduation include a post-baccalaureate fellowship with the National Institutes of Health, where she will conduct biomedical sciences research underneath Dr. Anthony Fauci, she will first bring the UCCS STEM Outreach Program to life at UCCS.
"When I began thinking about creating the program, I was inspired by the stories of my peers and mentors, as well as my own experiences as a UCCS student," Fox said. "My goal is to foster scientific passion among students who may lack the resources to pursue a career in STEM or medicine based on their high school education, background, financial status or any other factors that could affect their future."
"Science is a beautiful thing," Fox continued, "and UCCS does an incredible job preparing students to be successful in whatever field they wish to go into. I aim to highlight these unique experiences, all while giving underserved students a chance to follow their true potential."
Over the course of three days, the program will give high school students an opportunity to assist UCCS faculty members in their research. Students can also participate in sessions with UCCS departments including the Pre-Collegiate Development Program, the Career Center, tours of specialized UCCS research facilities and panels with current students and alumni. There is no cost to attend the program, though a $20 will be required and will be reimbursed at the end of the program. Lunch will be provided for all high school participants.
The deadline to apply will be May 28, 2022. Application details will be available the week of May 2.
A program schedule can be found below.
Program Schedule (subject to change):
Monday, July 18
Welcome, Orientation (9:00 am)
Safety Training (9:30 am)
Chemistry Lab #1 with Tisha Mendiola Jessop (10:30 am)
Lunch (12:00 pm)
Biology Lab #1 with Cheryl Doughty (1:00 pm)
Break (2:30 pm)
Pre-Collegiate Panel (3:00 pm)
Tuesday, July 19
UCCS Career Center Discussion (9:00 am)  
Biology Lab #2 with Tom Wolkow (10:30 am)
Lunch (12:00 pm)
Chemistry Lab #2 with Elise Naughton (1:00 pm)
Break (2:30 pm)
UCCS Alumni/Current Student Panel (3:00 pm)
Wednesday, July 20
Meet at William J. Hybl Sports Medicine and Performance Center 
CU School of Medicine Panel (9:00 am)
Hybl Center tour (10:30 am)
Lunch (12:00 pm)
Human Anatomy & Histology Lab with Sabine Allenspach and Hollis Morgione (1:00 pm)
Financial Aid and Scholarships Panel with parents and students (3:00 pm)
End of Program; pizza party and tour of the campus with parents and students (4:00 pm)
In future years, the program will include more topics in STEM, including engineering, technology and mathematics.
About the University of Colorado Colorado Springs (UCCS) 
The University of Colorado Colorado Springs (UCCS) offers 55 bachelor's, 24 master's and eight doctoral degree programs and enrolls about 12,000 students annually. Located in the heart of Colorado Springs, UCCS has a strong student focus and access mission, with a goal of transforming lives for the better. Learn more about UCCS at uccs.edu.