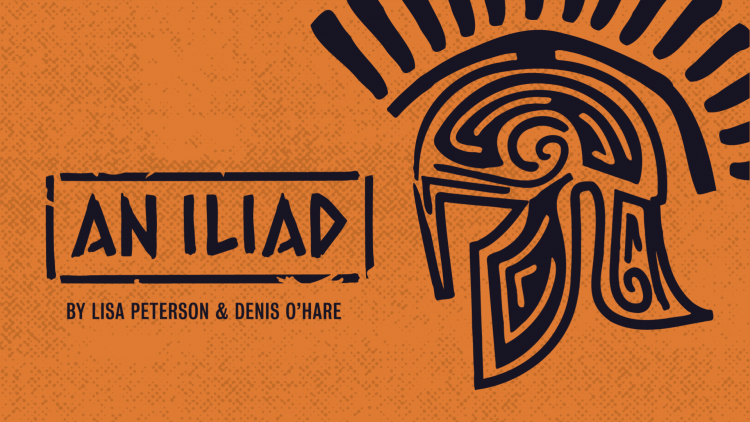 The arts are whizzing to life again at the Ent Center for the Arts as Theatreworks brings back the artists behind An Iliad. Originally produced and planned for March of 2020, the production was one of the first cancellations of the COVID-19 pandemic.
Now, 14 months later, Theatreworks and the arts at UCCS are emerging out the pandemic with this adapted work of art for outdoor performance against the backdrop of Pikes Peak.
In An Iliad, one actor and one musician tell Homer's timeless tale of fate and fury through vivid storytelling and live music. This imaginative theatrical experience brings us to the battlefield where gods, heroes and empires clash in a quest for vengeance and glory—an age-old story reinvented for the modern era.
One person, the Poet, returns to tell a tale of a city ravaged by plague and war, and the heroes who people it. The Poet not only tells the story of the final days of the Trojan War, he also embodies Achilles, Hector, Hermes, Helen and others. The Muse, embodied in this production by a cellist playing original compositions for Anthony Tan, drives him on in his quest through the centuries to understand why people wreak such havoc on each other.
Directed by Dr. Max Shulman, Lisa Peterson and Denis O'Hare's An Iliad runs May 6 through May 23, outdoors on the lawn at the Ent Center for the Arts. This production is Shulman's first for Theatreworks. Recent directing credits include "Awake and Sing" (Quintessence Theatre in Philadelphia), "Ugly Lies the Bone" (UCCS) and Tis Pity She's a Whore" (UCCS). Max is and Assistant Professor in the Visual and Performing Arts at UCCS, and the director of both UCCS Dramaturgy and the HomeFront Theatre Project, a project devoted to using classic theatrical and humanities text to unlock the veteran experience.
The ensemble of two performers includes Erik Sandvold as the Poet and Pam Chaddon as the Muse. Sandvold is a Northwestern University graduate who was previously seen at Theatreworks in the one person show "I Am My Own Wife" and has been featured frequently by Colorado's leading theater companies such as Denver Center Theatre Company, Arvada Center, Colorado Shakespeare Festival, and Curious Theatre Company where he is a company member. Chaddon serves as both Orchestra Manager and Associate Principal Cellist for the Chamber Orchestra of the Springs. She performs on baroque cello with Colorado Springs' Early Music Ensemble, Parish House Baroque and has been praised by the Gazette for playing with "poetic grace".
The creative team includes Maelia Kalua, `20, costumes; Tiana Alderson, lighting; Anthony Tan, composition; Marie Verdu, props; Nicholas Burlinson, Visual and Performing Arts student and assistant director; and Sarah Dale Lewis, stage manager.
Tickets to An Iliad may be purchased online at https://entcenterforthearts.org/theatreworks or by phone at 719-255-3232. Performances begin Thursday, May 6 and continue through Sunday, May 23. Tickets are $21 for adults and youth; $15 for military and veterans; and UCCS students are always free. Evening performances are at 7 p.m. and Saturday matinee performances are at 2 p.m.
Capacity on our outdoor lawn seating is limited to 100 patrons. All audience seats will be placed 6 ft distanced from one another. All patrons will remain seated and masked during the performance.
Associated Events
Following the Saturday 12 p.m. matinee performances, director Max Shulman and Artistic Director Caitlin Lowans will host community discussions centered around themes for the military and veteran communities.