From projects focused on viruses, diversity, equity and inclusion, cryptocurrency and more, 30 students will unveil their research in the week-long Graduate Research Showcase beginning May 3.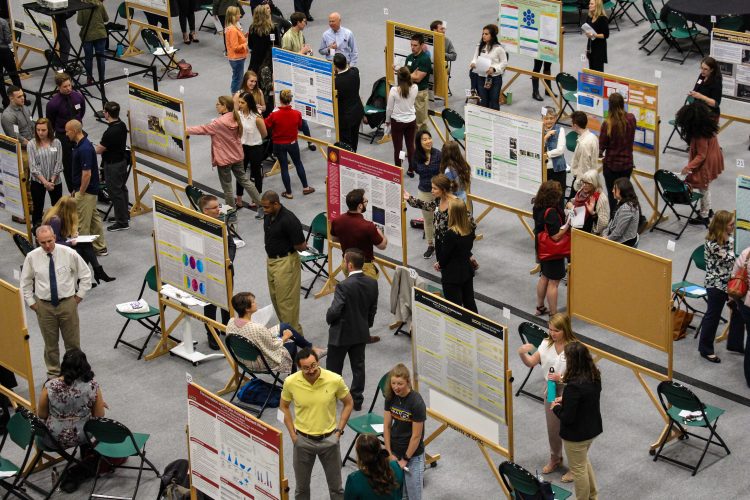 "Research is integrated into the mission and identity of UCCS. This virtual showcase provides graduate students an opportunity to present their research and receive feedback," said Sarah Elsey, UCCS Graduate School program manager.
The students, from more than 10 different disciplines, will present their research for the first time since 2019, as the 2020 presentations were canceled due to the COVID-19 pandemic.
"Through this event, students get the opportunity to practice explaining their research virtually to a wide range of individuals with different levels of knowledge on their topic," Elsey said. "Students and faculty can learn more about research happening at UCCS, which can lead to cross discipline collaborations."
The showcase will be available from May 3 to May 7 for viewing in Canvas. Tap here to sign into canvas and self-enroll in the course to view the showcase after 9 a.m. on Monday, May 3.
The following students will make presentations, however the list is subject to last-minute changes:
Biochemistry/Chemistry Presentations
| | |
| --- | --- |
| Marshal Dolan | Tailored Synthesis of Hydrogel Media for Chirality Separation of Single Walled Carbon Nanotubes |
| Bailee Troutman | Expression of an Antitumorigenic Agent by a Magnetotactic Bacterium |
| Chad Sallaberry | Analyzing Curcumins Membrane Mediated Protection Against Monomeric Amyloid Beta |
| Barbie Voss | Neuroprotective impacts of Epigallocatechin-3-gallate (EGCG), an active compound found in green tea, and Curcumin, an active compound found in Turmeric, in Alzheimer's Disease |
| Michael Wheeler | Towards Understanding the Epstein Barr Virus gp350 Complement Receptor 2 Interaction |
Communication Presentations
| | |
| --- | --- |
| Lani-Elaine A. Castruita | News: Is it Real or Manipulated? A Demographic Study on Fake News & Censorship |
| Alison Christofferson | Communication in Creative Work |
| Brie Escobedo | Designing You: An Introductory College Course Utilizing Design Thinking |
| J'Nae Squires-Horton | Black Women in College Basketball Leadership: An Exploration of Diversity and Inclusion in the NCAA |
| Holly Stevenson | It's About Supply and Demand! And Women Aren't in Demand? |
Computer Science Presentations
| | |
| --- | --- |
| Ahmed Bensaoud | Deep Multi-Task Learning for Malware Image Classification |
Criminal Justice/Public Administration Presentations
| | |
| --- | --- |
| Cameron Gilbert | Transparency in the Woodland Park Police Department |
| Angela Roberts | A Formative Evaluation of Dream Centers Mary's Home |
| Alexandria (Alex) Remillard | Helping Older Individuals Age In Place: Using Big Data to Understand the Scope and Impact of the Reverse Mortgage Foreclosure Crisis |
| Simeon Wuthier | Proof-of-Work Network Simulator for Blockchain and Cryptocurrency Research |
| Brendan Georgas | Foods to Encourage: An Impact Study of Labeling on Patron Food Choice |
Education Presentations
| | |
| --- | --- |
| Phillip Haisley | Student Engagement and Academic Success: A Regression Analysis of Institutional Level NSSE and CCSSE DATA on Rates of First-Year Retention and Graduation |
| Kathryn Watson | Secondary Teachers' Self-Efficacy in Supporting Student Mental Health |
Health Sciences
| | |
| --- | --- |
| Jessica Arent | Exploring Participant's Perceptions of the 16-week DPP with Health Coaching |
| Karisa Dreyer | The Role of School Wellness Teams in School Wellness |
| Nick Merna | Ankle Ligament Width Compared with Time to Stability |
| Tina Miller | The Impact of Service Learning on Healthcare Science Undergraduate Students |
| Nicole Odell | Changes in Recreational Physical Activity Behavior during COVID-19 Stay at Home Restrictions |
| Mary Ward | Culture of Wellness: Faculty and Staff Perceptions |
| Whitney Wymer | A Pilot Study to Examine Efficacy of a Sleep Hygiene Education Program for Veterans with Self-Reported Sleep Problems |
History Presentations
| | |
| --- | --- |
| Ashley Pruett | The Mother, Lover, Goddess Archetype: Aphrodite and Thetis from Homer to Apollonius Rhodius |
Nursing Presentations
| | |
| --- | --- |
| Hannah Dangerfield | Polypharmacy: The Impact on the Geriatric Population |
Physics Presentations
| | |
| --- | --- |
| Yaroslav Balytskyi | Detecting Bias in Randomness by PT-Symmetric Quantum State Discrimination |
Psychology Presentations
| | |
| --- | --- |
| Jessica Baynard-Montague | Can a Stress Mindset Manipulation Affect Speech Production? |
| Geffen Ferszt | Death Salience, Likelihood of Future Cautious Health Behavior, and the Awareness of COVID-19 |
| Rebecca Ingram | Exploring the Meaning of Dementia Grief in Spousal Caregivers |
| Alekx Schneebeck | Furrever Searching for Love: A Furry Dating Website Content Analysis |
| Michelle Shields | Development of Information Seeking |