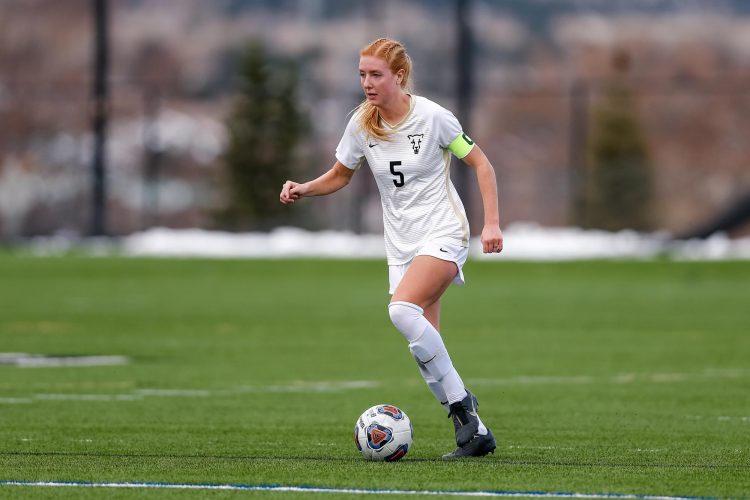 Aleesa Muir is proof that good things come to those who persevere. Since starting at UCCS in 2017, she's become an outstanding women's soccer athlete, biology student and research assistant. Now she is being honored with a Thomas F. McLaughlin Award.
The McLaughlin Award is presented annually to the best male and female student-athletes who have maintained a cumulative grade point average of 3.0 or higher. McLaughlin recipients have demonstrated not only excellent athletic abilities, but an outstanding commitment to fellow student-athletes, and their communities.
Last month Nathan Gibson, executive director of athletics, emailed Muir about the merit and she was happy to get it.
"I think there are a lot of athletes that deserve this award, so it's a big honor," Muir says. "It's a culmination of all the different aspects I've devoted my life to."
This isn't the first award Muir has received. During her time at UCCS, she has been recognized as an Academic All-American by the College Sports Information Directors of America and an All-American by the Division II Conference Commissioners Association and the United Soccer Coaches organization.
Despite all of her achievements, Muir almost quit soccer for good four years ago.
As a Colorado Springs native, Muir picked Colorado College as her first choice to study and play soccer, but it wasn't the right fit. Her degree and schedule just weren't flexible enough.
"At the time, soccer felt like a job, so I fell out of love with it," Muir explains. "I just wanted to focus on academics."
But with encouragement from her mother, Muir enrolled at UCCS and began working with new Head Coach Sian Hudson. Along with UCCS' welcoming atmosphere, Hudson motivated Muir to become an exceptional student-athlete.
"I realized that my love for soccer wasn't gone, it was the environment that tainted it," Muir says.
After getting back into the game, Muir also devoted herself to obtaining a Bachelor of Science in Biology and graduating with a 3.958 grade point average. Although it was hard balancing academics with athletics, science has always been her biggest passion, ever since her first middle school science fair.
"My mom was a science teacher so it was just ingrained in me," Muir says, with a laugh. "I always knew I wanted to do something with a science or health focus."
Next year, Muir plans to take the MCAT and go to medical school. With one year off to prepare, she will continue to do immune system research with James Kovacs, assistant professor of biochemistry. In between, she'd like to see her soccer teammates one last time.
"It's been a hard transition, with how the year has played out," Muir concludes. "But I'm definitely going to keep in touch and enjoy having one year off."