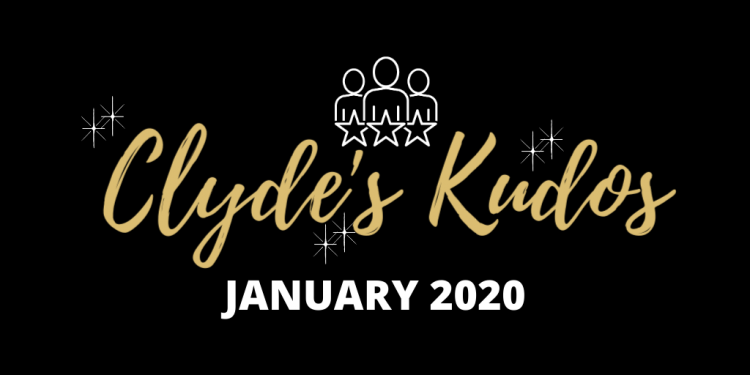 Staff Association is excited to announce Clyde's Kudos: a new, informal recognition program to promote positive morale and staff engagement.
Kudos will be celebrated each month on Communique. Nominations will also be recognized through a variety of forums including the Staff Association website, the Staff Association newsletter, Spring Luncheon shout-outs, handwritten cards and other methods of distribution.
Clyde's Kudos: January 2020
Featured this month:
Amy Box | Burcu Johnson | Steve Linhart | KrisAnn McBroom | Hortencia Ysarraraz | Jessica Garrett | Rose Johnson | Stephanie Hanenberg | Rhea Taylor | Valerie McClinton | Todd Casey | Ray Fisco | Sarah Harring | Lisa Potoka | Veteran and Military Affairs Office | Crayton Daniel | Yvonne Weeres | Bailey Bush | Margie Oldham |Pamela Preston | Benek Altayli | Christine Broyard | Karen Bisset | Jared Verner
To: Amy Box
From: Michelle Pittman
Amy works in a different department than I do, but has consistently gone above and beyond by helping me transition into my new position. She has not only sat down with me 1-1 and shared her knowledge, but she has also shared information about other trainings on campus and has (in general) taken me under her wing with no directive from anyone else on campus asking her to do so. I am very grateful.
To: Burcu Johnson
From: Kymberli Koloski
Burcu is always professional and goes above and beyond her duties. She always willing to help a fellow co-worker out. She puts students first!
To: Steve Linhart
From: Anon.
Steve is, and has always been, student focused. Steve will do anything for a student, and his dedication to this is inspiring. I admire Steve so much for his ability to make such impact both within his own department and across campus. Steve has made such an impact on many of us here at UCCS, I proudly and honorably give him Clyde's Kudos. It is so deserved.
To: KrisAnn McBroom
From: Kelli Klebe
Ms. McBroom will be going on maternity leave and to prepare our office for her absence, she has created a handbook of duties, templates, "next steps" documents, and providing training to those of us who will try to fill her shoes. This going above and beyond. If we cannot handle her duties while she is out, it is not lack of preparation on her part! Her excellence in her day-to-day work will be missed but we are so happy for her for this new adventure.
To: Hortencia Ysarraraz
From: Anon.
Hortencia is a valuable team member on the UCCS campus. She is relied upon campus-wide for staff talent acquisition. Hortencia is involved in the hiring process from start to finish. On occasion, I have received emails from her in the evening or on a weekend. Those who work with her know she goes above and beyond in her role to ensure the hiring process is right on track. In addition to her professionalism, she is also a pleasant person. Kudos to Hortencia!
To: Jessica Garrett
From: Ariadna Coffman
I was very sick for a couple of days and stayed home. I let the office know I was scheduled to do an information session for visitors on one of those days and needed someone to cover it. Jess stepped up and did it for me. The day I got back, I was still not feeling 100% and Jess was on her way to the UC. She asked me if I wanted to come but I said I was feeling weak. She asked me if I wanted some hot tea and I said Yes. She brought me the tea, plus 3 different types of sweeteners and some lemon juice. She is such a caring person!
To: Rose Johnson
From: Katherine Mack
Don't underestimate the power of a positive attitude and good sense of humor. I won't because I work with Ms. Rose Johnson, the administrative assistant of the English department. Rose greets everyone with a smile, a ready laugh, and, if necessary, a dose of wisdom, all on top of answers to most questions and a willingness and ability to research answers to questions for which she doesn't have an immediate answer.
To: Stephanie Hanenberg
From: Anon.
Stephanie cares deeply for UCCS students, her staff and those she works with outside of her department. She inspires me to go above and beyond as an employee and person.
To: Rhea Taylor
From: Kelli Klebe
Giving extraordinary service for a phone call. Rhea took my random question and found the answer. Getting responses from 2 different offices to confirm her initial response. She got back to me in a short period. This allowed me to continue the project I was working on. Her response was "let me find out and get back to you". This is good service. She could have easily not confirmed her response or tell me a different office to contact. Thanks to Rhea!
To: Valerie McClinton
From: Heather Allen
Valerie always goes above and beyond to assist her students in their academic career. She is an amazing soul and co-worker!
To: Todd Casey
From: Anon.
For being awesome! Todd is so attentive and just gets stuff done! He picks up the phone when he is called and makes you feel that your issue is a priority. Todd is a great campus colleague.
To: Ray Fisco
From: Lisa Potoka
Ray and Carlie were invited to present at the NASPA Strategies Conference in New Orleans, LA in January 2020. Their presentation highlighted all the wonderful work done at UCCS on the #SmartMoveUCCS social norming campaign for impaired driving. In addition to showcasing UCCS, their presentation inspired other institutions to create their own social norming campaign to educate students.
To: Sarah Harring
From: Anon.
Sarah is such a dedicated and hard worker. Anytime I have an issue, I am able to go to Sarah and she is always willing to help. Sarah is the rock of our department, and helps keep us grounded as we often float away with our crazy ideas. The work she does is so appreciated.
To: Lisa Potoka
From: Anon.
Lisa is one of the most energetic people at UCCS. It is always such a pleasure working with and around Lisa, because her energy and excitement is infectious. My day is always so much better when I'm able to interact with Lisa.
To: Veteran and Military Affairs Office
From: Anon.
For demonstrating effective teamwork, flexibility, and commitment while effectively delivering quality service with benefits processing and student support programming during the fall semester.
To: Crayton Daniel
From: Anna Squires
Crayton started at UCCS on the last business day of 2019. As social media strategist in the office of University Communications, he's been part of the Mountain Lion family for less than a month, but his excitement, fresh energy and dedication to the university are already turning heads! It's an actual treat to work with Crayton. He is always the first to lend a hand on a new project and the first to volunteer to stay late or work on weekends to cover live events – always with a smile, and genuinely happy to be there. Working with Crayton isn't even like working at all. We're so lucky to have him!
To: Yvonne Weeres
From: Anon.
Yvonne was very thorough with our lockdown training. She was frequently checking in with us and passed on our questions.
To: Bailey Bush
From: James Ledbetter
Thank you for your hard work on improving our Resident Assistant trainings! Your passion and drive are so very valued!
To: Margie Oldham
From: Lily Cosgrave
Margie has been here for 14 years. For 14 years she has gone above and beyond to help a fellow coworker or student no matter how busy she is. She is constantly performing actions outside of her job scope and continues to always look for more to do. She will and does do everything she can to improve and better UCCS everyday by little simple things such as picking up trash on campus grounds, just because, to creating a club of students to promote our college, faculty, staff, and students. She trying to make each person she comes into contact with a better person by encouraging sustainable behavior or reminding people to recycle. She will even buy gifts that are reusable or helpful instead of giving more junk that people don't use.

I would say she is the definition of a person who is constantly demonstrating an infectious positive attitude. She has two position titles here at UCCS but she wears upwards of 15 different hats and is always the first person to take initiative on anything you give her or things she finds on her own. She participates on community boards and community activities such as runs in Garden of the Gods to maintaining and picking up trails or the open space coalition. For over a year now she has gone above and beyond for a staff member (using a wheelchair) here on campus by coming in early to help them get from the parking garage to their office every morning and every evening. She voluntarily helps me and several other co-workers complete tasks and create beautiful gatherings and events. Margie does everything from leaving the office open past hours just in case a student needs help, to her iconic Halloween themes. She is by far the most kind and understanding individual I have ever worked with. I am so thankful for her and what she does. I know that a lot of people don't see ALL the things she has done for this university but, I know that she bleeds UCCS in every one of her actions. She deserves so much recognition and praise! Kudos to you Margie, you rock my socks off!
To: Pamela Preston
From: Robin Bredl
Pam has gone over and beyond to help with a financial analysis that is outside of her job duties. Moreover, she has approached this request with a positive attitude and an attention to detail that has resulted in a timely and accurate product.
To: Benek Altayli
From: Anon.
Benek is constantly going above and beyond to meet the mental health needs of our students. She sees our students as whole people, not just their academic promise/contribution. She has a way of being compassionate and empathic in even the hardest of situations. She repeatedly models for other staff on campus how to engage students in a way that is curious, non-judgmental, and helpful.
To: Christine Broyard
From: Candida Bennett
Christine manages the UCCS Listening In (55+ Audit) program with her genuine "aloha spirit" that is truly appreciated by Listening In participants! Christine takes the time to listen, communicate and validate the needs of lifelong learners as they endeavor to enrich their lives with classes at UCCS. A big mahalo to Christine for her amazing customer service!
To: Karen Bisset
From: Candida Bennett
Karen's work ethic is second to none! She manages the multiple layers of UCCS' CU Succeed (high school) programs with a sense of passion and pride that is inspiring. Karen's ease of communication with administrators, parents and high school students about the importance of a post-secondary education is an invaluable asset. Karen is an integral part of the Academic Outreach team and I couldn't imagine working without her!
To: Jared Verner
From: Kelli Klebe
For initiative and promotion of graduate education and research! Jared attends our UCCS Mountain Lion Grad Slam regularly and takes pictures and promotes in the Communique, but this year Jared initiated having the event live streamed. This was his idea and he made it happen. This increased the number of people who were able to watch the event. We were able to tell our event participants who could then share with family and friends. We had at least 30 people watching over the period based on preliminary data. This was fantastic for outreach and promotion of UCCS research. We didn't even know it was possible and are so appreciative of Jared taking the initiative to suggest this and make it happen.
Want to celebrate your colleagues? Submit kudos anytime through the Staff Association website. Communique publishes Clyde's Kudos on the first business day of each month.