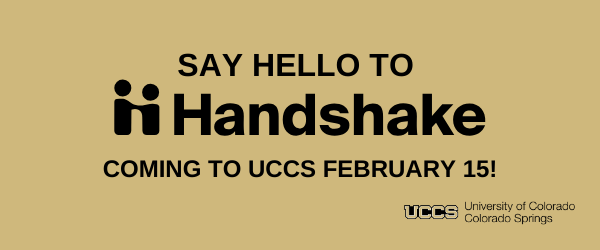 Starting February 15, UCCS students will have access to a new resource to launch their careers: Handshake, the industry-standard job and internship platform that connects students to more than 500,000 employers across the globe.
Handshake, which is used by more than 900 colleges and universities nationwide, will house all of the job and internship openings Career Services receives from employers as well as opportunities posted to university students nationwide.
"It's exciting," said Claire Ami, Career Outreach Coordinator for Career Services, who has overseen the transition from the department's former job and internship platform, Clyde's Careers, to Handshake.
Ami continued, "It's mobile-accessible. It uses single sign-in, so our students can use their UCCS email and password to log in. And it blows the doors wide open on opportunities across the United States as well as globally – all on a platform where we can vet each opportunity as it comes in."
Using the new platform, UCCS students and alumni can apply to positions posted by employers representing all shapes, sizes and industries – including every Fortune 500 company. While on-campus employment will continue to be hosted through SEAN, there are plans to eventually move those opportunities onto the platform as well.
Handshake has become a popular platform for career centers across the country due to its ease of use and algorithm-driven software. It mimics Spotify, Netflix and other popular online services by using machine learning to recommend relevant opportunities to students.
As students fill out their profiles with information like their major, extracurricular activities, preferred industries and location and use the platform to search for positions, Handshake develops lists of relevant positions curated specifically for that student. The more students use the platform to search for and apply to jobs, the more relevant its suggested opportunities become.
It has also drawn nods across the country for making it easier for employers to seek out qualified students, breaking down the barriers faced by job-seekers using other platforms. Rather than relying on recruiters, employers can search for qualified students on the platform and personally invite them to apply for opportunities at their organizations.
And it also offers opportunities for students and alumni to lend each other a hand. Students can pose questions on the platform about what it's like to work for a particular company, what kinds of opportunities are available to students with their major and what the application process is like for different companies and industries. Students and alumni on the platform can reply back with advice and words of encouragement and upvote the most relevant responses.
The ultimate goal of the platform is to level the playing field for students seeking employment – whether it's an internship, a part-time gig or their first professional job after graduation.
According to Ami, "We have 500,000 employers posting opportunities on Handshake. And it offers us access to a network of schools and opportunities all across the country. It's exciting to be using the same system that Stanford uses. It levels the playing field for our students to have access to the same jobs that Ivy Leave students do."
UCCS students can log into Handshake starting February 15. To log in, visit the Career Services website and select the Handshake banner. Then use a UCCS student email and password to log in, complete a profile and begin seeking opportunities.