Embed from Getty Images
A bespoke algorithm developed by researchers at UCCS and the Massachusetts Institute of Technology intended to remove the inertia that national rankings carry from week-to-week shows that Alabama, and not Oklahoma, should be the No. 4 seed in the 2019 College Football Playoff.
The algorithm, developed by Joe Craig, associate professor of economics at UCCS, and Niven Winchester, principal research scientist at MIT and founder of RugbyVision.com, seeded Division I's top teams as No. 1 Ohio State, No. 2 LSU and No. 3 Clemson. The algorithm matched Clemson's seed and flipped the top two seeds from the playoff committee's selection released Dec. 8.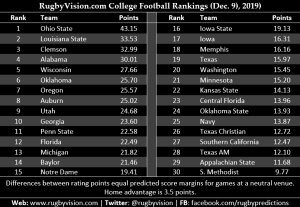 "We have Ohio State as the highest ranked team in the country, and by a considerable margin," the researchers said. "The committee and Vegas seem to place more importance on recent games, so while Ohio State struggled early and had to rally in the Big Ten Championship Game, LSU cruised to an easy victory in the Southeastern Conference Championship Game. The committee has previously stated that it places emphasis on winning conference championships, so the inclusion of Big 12 champion Oklahoma at the expense of Alabama is not surprising.
"We have seen Alabama lose to LSU at home, so we have a good idea LSU is better than Alabama, but not how Oklahoma compares to them. What is more interesting is how far Alabama has fallen in the rankings to No. 13. The CFP committee has said it adjusts rankings due to injuries, so it appears that Alabama's ranking is discounted due to the injury of quarterback Tua Tagovailoa."
The algorithm ranks teams by assigning points based on game scores after adjusting for the strength of the opposing team and accounting for home advantage. The points are the hypothetical points that a team would score in a neutral venue. Since the semifinals will be in neutral venues, the researchers predict LSU would defeat Oklahoma 34-26 and Ohio State would defeat Clemson 43-33.
"Ranking systems have inertia and it's rare to see teams moving up drastically or moving down drastically unless there is a major upset," Craig and Winchester said. "We think the committee's elevation of LSU over Ohio State is a particular example of this. In our rankings, Ohio State beat its top four opponents, who had an average rank of 8, by 21 points, while LSU's top four opponents ranked 9.75 and it won by an average of 12.2 points. It seems as if the committee is basing their analysis on one game, the LSU victory over Georgia in the SEC Championship Game, a team we have ranked as No. 10 and had six starters who missed the game or played with injury."
In the other "New Year's Six" games, the researchers predict the following margins of victory along with predictions for all of the bowl games this season:
Cotton Bowl: Penn State over Memphis by 7
Orange Bowl: Florida over Virginia by 18
Rose Bowl: Wisconsin over Oregon by 2
Sugar Bowl: Georgia over Baylor by 2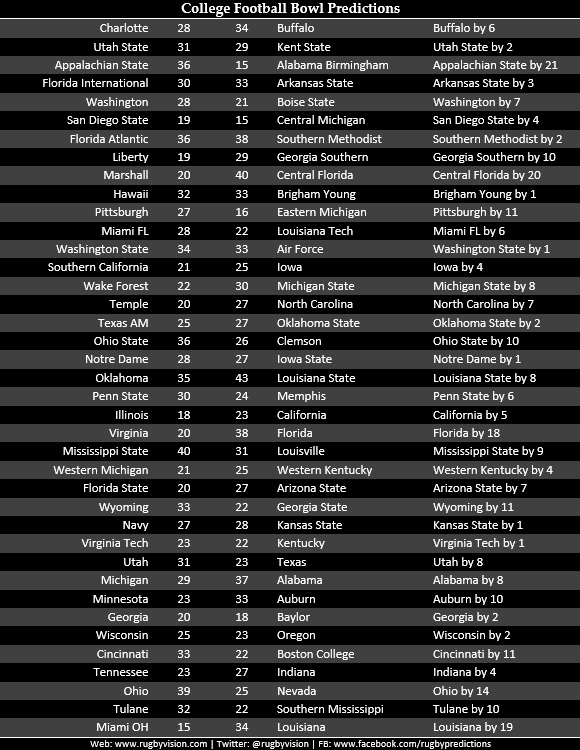 In last year's ranking, the researchers agreed with the selection and seeding of No. 1 Alabama, No. 2 Clemson and No. 4 Oklahoma, but felt that Georgia should have been in the semifinals instead of Notre Dame. Clemson ended up defeating Notre Dame 30-3, and Alabama advanced with a 45-34 against Oklahoma.