When the College Football Playoff announced Alabama, Clemson, Notre Dame and Oklahoma as the four teams that will play for a national championship, commentators and fans started to debate if the right four teams were selected. That included Joe Craig, assistant professor of economics, who throughout the season adapted a formula developed for rugby to see how it could be used for American college football.
Based on his algorithm, developed with Niven Wichester, principal research scientist at the Joint Program on the Science and Policy of Global Change at Massachusetts Institute of Technology, the two agreed with the committee's selection and seeding of Alabama, Clemson and Oklahoma. But the ranking showed that Georgia, and not Notre Dame, should be in the playoffs.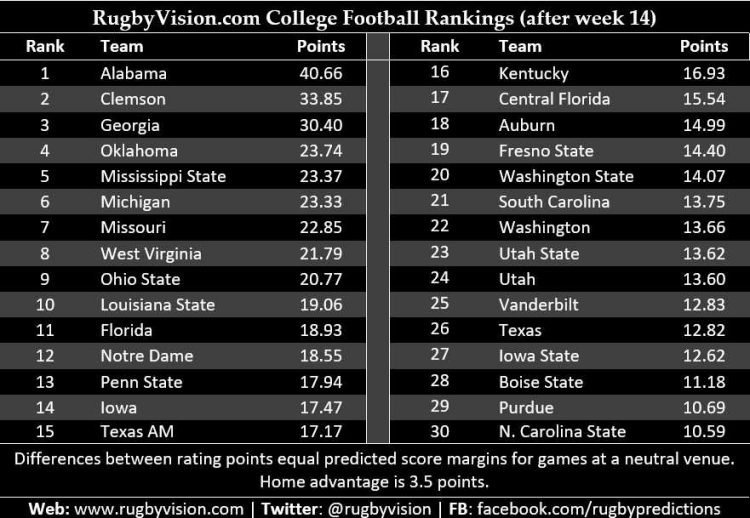 "With all the money, time and energy that goes into picking the right schools to play in lucrative bowl games, it's important to see if the experts get it right," Craig said.
The algorithm ranks teams by assigning rating points based on game scores after adjusting for the strength of the opposing team. Despite winning all the games in 2018, Notre Dame is ranked No. 12 by the algorithm as the Fighting Irish played a relatively weak schedule and they did not dominate lower ranked teams.
For any two teams, differences between ratings points indicate the expected winning margin of the higher-ranked team if they played at a neutral venue, like during the college postseason. According the algorithm, Alabama is expected to beat Oklahoma by 17 points, and Clemson is expected to beat Notre Dame by 15 points in the semifinals.
"Does Notre Dame deserve to be in the playoffs? Their performance against Clemson will go a long way to answer that question," Winchester said.
The College Football Playoff semifinals take place Dec. 29 with No. 2 Clemson and No. 3 Notre Dame in the Cotton Bowl, and No. 1 Alabama and No. 4 Oklahoma in the Orange Bowl. The national championship will be played Jan. 7 in Santa Clara, California.