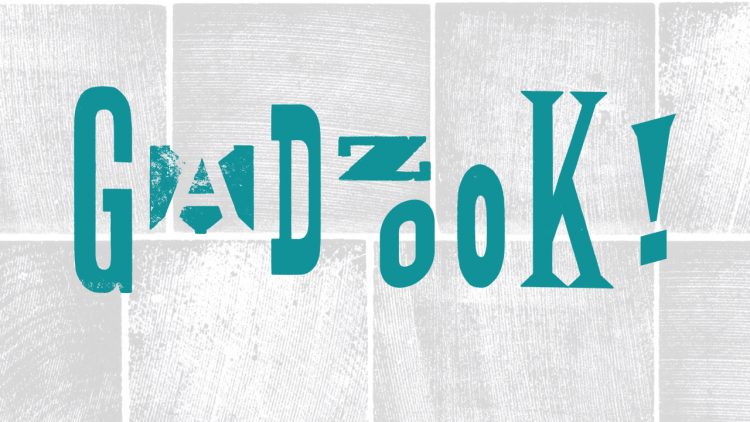 The UCCS Galleries of Contemporary Art presents a new exhibition, "Gadzook!," at GOCA's downtown through March 2, 2019. The exhibition is guest curated by Michelle Winchell and showcases the inventive work being done by contemporary letterpress printers as they engage with the centuries-old craft.
Whether re-imagining the printed broadside through the lens of western identity and magical realism or conducting a formal investigation of the visual vocabulary of letterforms, the artists featured in this exhibition explore the diversity and creativity of contemporary letterpress printing practice.
The exhibition features work by Amos Kennedy, Anne Luben, Judith Poirier and David Wolske, hailing from across the United States and Canada. Kennedy's work embodies the egalitarian nature of printing, creating large press runs of provocative posters that showcase unconventional aphorisms, African proverbs and more. His printing technique is unconventional, too—he creates rich, thick layers of ink, running each print through the press multiple times. Luben prints on hand-dyed textiles, then quilts them into huge, oversized broadsides. Her work entwines Western visual vernacular with larger-than-life narrative, creating her own folkloric vision of the West. Poirier combines typography and film-making by printing antique type directly onto 35mm film stock. She then cuts the footage together to create abstract films, exploring and experimenting with letterforms in an improvisational process. Wolske investigates the visual vocabulary of letterforms through his abstract compositions. He has created a meticulous masking process that he calls isotype printing, which allows him to isolate and print specific sections of each piece of type.
The exhibition also includes work by two local presses, Ladyfingers Letterpress and the Press at Colorado College. They have created prints in the rich tradition of protest posters as part of For Freedoms' "50 State Initiative." For Freedoms was founded in 2016 by artists Hank Willis Thomas and Eric Gottesman as a platform for civic engagement, using exhibitions, installations and public programs to advocate for equality, dialogue and civic participation.
ASSOCIATED EVENTS
"Pressing On: The Letterpress Film," a documentary about the 500-year-old craft of letterpress printing, will be screened at the Ent Center for the Arts on Dec. 10. The film is a collaboration between co-directors Erin Beckloff and Andrew P. Quinn. Beckloff developed an interest in letterpress after receiving a historic printing press as a wedding gift. Curious and inspired, she began to record interviews in 2010 with printers in the letterpress community. Her focus then shifted to capturing their stories on film, and in late 2013, she partnered with Quinn and Bayonet Media to create the "Pressing On" documentary, which beautifully captures the art and technology of letterpress printing and preserves important voices in this craft for generations to come.
On Saturday, Jan. 12, from 3–5 p.m., the Press at Colorado College will host an open studio with exhibition printer Amos Kennedy.
On Feb. 2, from 10 a.m.–4 p.m., GOCA will host a printing workshop with exhibition artist Anne Luben at the Ent Center for the Arts. The workshop is $50; pre-registration is required.
First Fridays
Jan. 4, 5–8 pm, First Friday
Feb. 1, 5–8 pm, First Friday + artist talks (Anne Luben and Judith Poirier)
Mar. 1, 5–8 pm, Closing reception and artist talk (David Wolske)