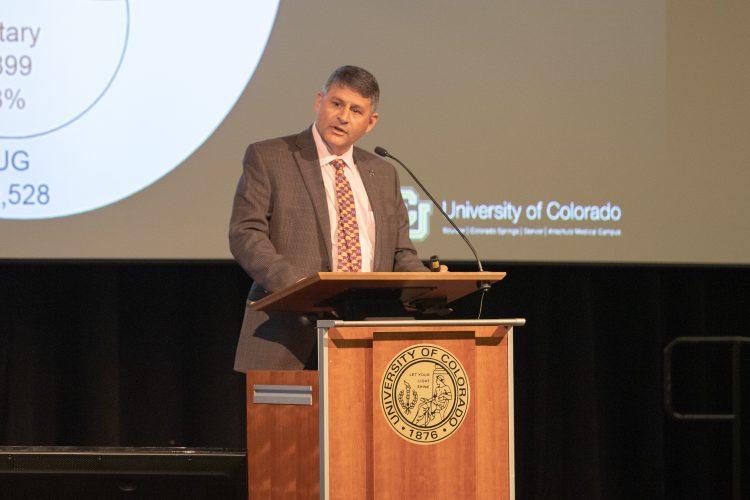 More than 100 faculty and staff learned about the composition of the undergraduate student body, and why students do and don't retain, during the Chancellor's Town Hall on retention and graduation Nov. 14. The campus-wide Enrollment Strategy Committee and its four subcommittees provided updates on their work in the last year and recommendations they have made to the Cabinet.
Enrollment on campus increased 41 percent since 2010, but the retention rate for students between their first and second year dropped from 71 percent in 2011 to 65 percent in 2017. The rate improved to 67 percent in fall 2018, but as class sizes have grown, it means 670 freshmen students did not return for their sophomore year in 2018.
The Enrollment Strategy Steering Committee was formed in fall 2017 to address the retention concerns, but also to look at what strategic enrollment growth would look like on campus. The committee developed four subcommittees on retention and graduation, course scheduling and capacity, admissions policy and enrollment marketing. The overall committee reports back to the Chancellor's Cabinet and the deans of the colleges throughout the year.
Chuck Litchfield, vice chancellor for administration and finance and chair of the steering committee, outlined that UCCS is unique with its high population of military, first generation and low-income students. More than half of the undergraduate students can identify with one or more of those categories.
Litchfield also outlined costs, and the work done to maintain affordable access. The university has the third-lowest cost for tuition and fees among its national peer group, and cost increases over the last three years have been lower than the rise in inflation.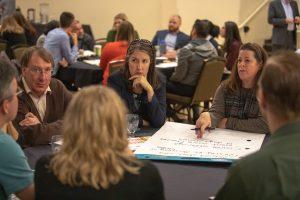 Each subcommittee reported on their work in the last year, the summary of each can be found below. Attendees were then asked to brainstorm at their tables on three questions posed by Litchfield, and report back to the general audience:
What are a few things you heard today that change your understanding of our students?
What can you do in your units to work on first-year retention?
What can you do in your units to work on persistence(after the first year to graduation)?
Chancellor Venkat Reddy provided opening remarks before Litchfield. The town hall series features a member of the Chancellor's Cabinet approximately once a year on topics within their division that apply across the university.
Retention and Graduation – Chaired by Susan Taylor, associate vice chancellor for undergraduate education and academic planning
The largest of the four subcommittees with 16 members meets every other week during the academic year and monthly during the summer. The group identified 52 existing retention efforts across campus. The subcommittee also looked at the university's approach to students as they're admitted, why students leave and why students take fewer than 15 credit hours each semester, which is the recommended course load for a four-year completion timeline.
For conditionally-admitted students, the subcommittee is exploring supplementary instruction and peer mentoring options, and investigated initiatives around teaching and learning. The group also recommended a formalized exit process in the student portal for additional information and a review of the impact on required advising for all first-year students.
On why students take less than 15 hours, the group surveyed undergraduate students enrolled in eight to 14 hours in the spring or fall 2018 semesters. With more than 1,700 responses, the top three reasons were work schedule, fear that their academic performance would decline with a heavier load and the additional costs of tuition and fees. The full report, along with student comments, is available at https://www.uccs.edu/ir/sites/ir/files/inline-files/Academic%20Load%20Report.pdf.
Course Scheduling and Capacity – Chaired by Robyn Marschke, director of the Office of Institutional Research, and Taylor
The subcommittee found that UCCS has not reached its capacity for courses, but it is near the limit and should utilize its existing space better. The group recommended the development of a course scheduling and use policy that outlines space priorities, clarifies roles and responsibilities, establishes standard meeting patterns, clarifies the facility upgrade process for classroom spaces and improves data collection for course and faculty characteristics. These would help inform decisions across campus for advising, course demand, scheduling, teaching loads and departmental resources, and provide better evidence to inform facilities decisions.
Admissions Policy – Chaired by Mathew Cox, senior executive director of enrollment management, and Barbara Gaddis, senior executive director for student success and student retention
The subcommittee looked at three years of admission data to draw connections between multiple academic factors and retention rates. It recommended that the freshman admission review process be a more holistic review of the applicants' academic history, and to balance those points with the likelihood of success. The subcommittee wants UCCS to maintain its mission of access while ensuring admitted students would be academically successful.
Enrollment Marketing – Chaired by Cox and Megan Bell, executive director of community learning and assessment
The subcommittee determined the campus programs of focus and provided initial and ongoing input and feedback on the new campaign launch with University Marketing and Karsh Hagan.