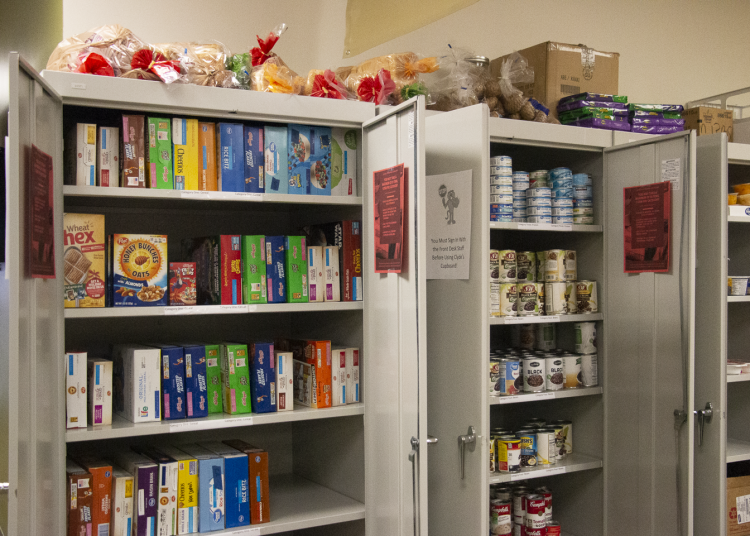 Generosity and a hint of competitive spirit among the UCCS community resulted in the most successful food drive in the history of Clyde's Cupboard this November.
UCCS staff and academic departments were once again invited to join the three-week Battle of the Departments Food Drive competition, which occurs each fall semester. All donations help fill the shelves of Clyde's Cupboard, the on-campus food pantry that helps feed hungry students at UCCS.
During the three weeks of the competition, which ran from Nov. 4 to 22, departments donated a total of 7,870 food items and $2,219 in financial gifts to the Clyde's Cupboard crowdfunding campaign, Change for Change.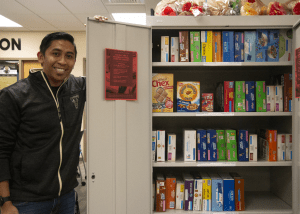 Competing teams also donated 465 gently used professional clothing items to Clyde's Closet, an initiative hosted through the Career Center that outfits students in professional attire for jobs, internships and interviews.
The addition of clothing and monetary donations made the competition "our most successful food drive to date," according to Ray Fisco, dean of students and main organizer of the competition.
"It's very humbling to see our whole campus come together to support this campaign," Fisco said. "It really showed the level of care, the level of support and the level of love they have for our students."
For the first time, Clyde's Cupboard used a per capita model to calculate the winner of the competition. To give smaller departments and teams a fair shake, donations were divided by the number of members on each competing team.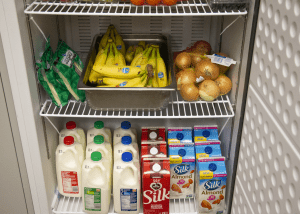 The UCCS Graduate School team was named the 2019 Battle of the Department champion for donating the most items per capita, with the Office of Sponsored Programs and Integrity and UCCS Downtown team named the runner-up. Clyde's Cupboard celebrated the third-place Financial Aid Office for donating the most items overall, and the Sociology Department for donating the largest sum of money to the Change for Change crowdfunding campaign.
Fisco received volunteer help from students Heather Marx, Tapasya Patel and Dani Browne and from representatives of UCCSLead and the Chancellor's Leadership Class, all of whom helped to gather donations from campus departments. Carlie Snethen, a graduate student assistant for the Dean of Students Office, counted and tracked donations to determine the competition champions.
Clyde's Cupboard accepts all donations made at any time. Healthy, non-perishable items such as breakfast cereal, peanut butter, canned beans, boxes of pasta and on-the-go meals are especially helpful to students. Students wishing to use the pantry may visit it in the Student Lounge in University Center.