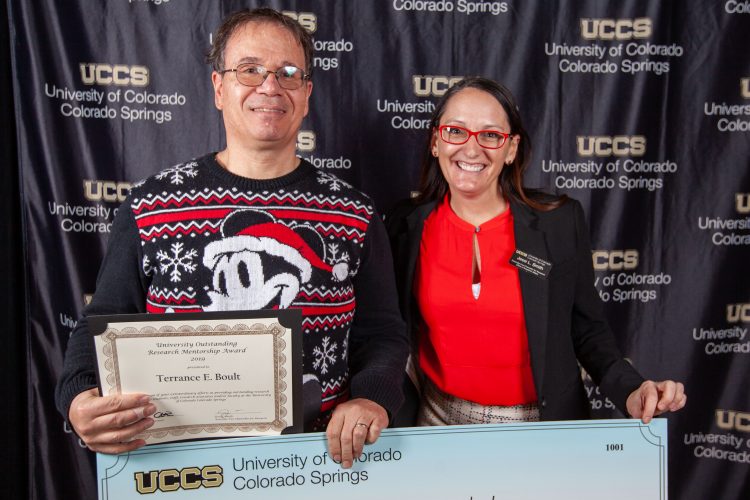 Terry Boult, El Pomar Endowed Professor of Innovation and Security, has been named the winner of the first-ever UCCS Outstanding Research Mentorship Award.
Provost Tom Christensen presented Boult with the award, along with a $1,500 cash prize, at Mountain Lion Research Day on Dec. 13 in Berger Hall.
"We are honoring an individual today who has helped to create a culture of giving back here at UCCS," Christensen said in remarks announcing Boult as the recipient of the award.
Six individuals nominated Boult for the award, including A. T. Chamillard and Rory Lewis, both associate professors of computer science, and junior Jonathan "Jono" Schwan, currently pursuing a Bachelor of Innovation in computer science. Rounding out the nominations were Ph.D. candidates Akshay Raj Dhamija and Steve Cruz and Abhijit Bendale '15, who earned his Ph.D. in computer science at UCCS and is now CTO of Star Labs.
Schwan, who names Boult as one of his mentors in computer science, wrote in his nomination letter that "one of [Boult's] most valuable and enduring accomplishments is his skill at mentoring and guiding others to success in their research."
He continued, "Dr. Boult helps guide his students without explicitly telling them what he believes, so they can learn to be self-sufficient in their work. His mentees frequently stay in touch with him long after their academic goals are met, because he becomes more than just a mentor to us – he has become a role model."
Bendale also emphasized the lifelong impact of Boult's mentorship on his career. He remarked that Boult's mentorship while he was earning his Ph.D. "laid the foundation for me to develop into an independent researcher, for which I will be forever grateful to him."
"He has certainly been the biggest influence on my professional life," Bendale wrote, "and I owe my research career to Prof. Boult's selfless mentorship."
Boult was also acknowledged for offering peer-to-peer mentorship with his faculty colleagues. As Lewis wrote in his nomination letter, "We have worked many hours into the night on my proposals – something he never needed to do but for the kindness of his heart," Lewis wrote in his nomination letter. "I always see students in his office. He is an endless resource for students as they absorb not just his knowledge on research, but [also] his kindness."
Boult has taught at UCCS since 2003. The driving force behind the Bachelor of Innovation program at UCCS, he is part of the $10 Million Sponsored Program Club, one of only three UCCS faculty members to hold the honor and was named a 2017 Institute of Electrical and Electronics Engineers Fellow for his contribution to the fields of biometrics and computer vision.
As Schwan wrote in his nomination letter, "Dr. Boult, who has 14 patents, more than 300 published papers on a variety of topics, and over 10,100 citations of his work, has changed the fields in which he works, and the lives of those he mentors."
Cruz seconded the thought. As wrote in his nomination letter, "I never thought I would be the first member of my family to graduate college and find a passion of mine, but I did. I never thought I would be able to interview with my favorite tech companies, but I did. I never thought I would publish research papers and serve as a reviewer for top computer vision conferences in the world, but I did."
"Six years later," he concluded, "I am forever grateful for his exceptional mentorship and beyond thankful to still have him as an ongoing mentor and advisor."