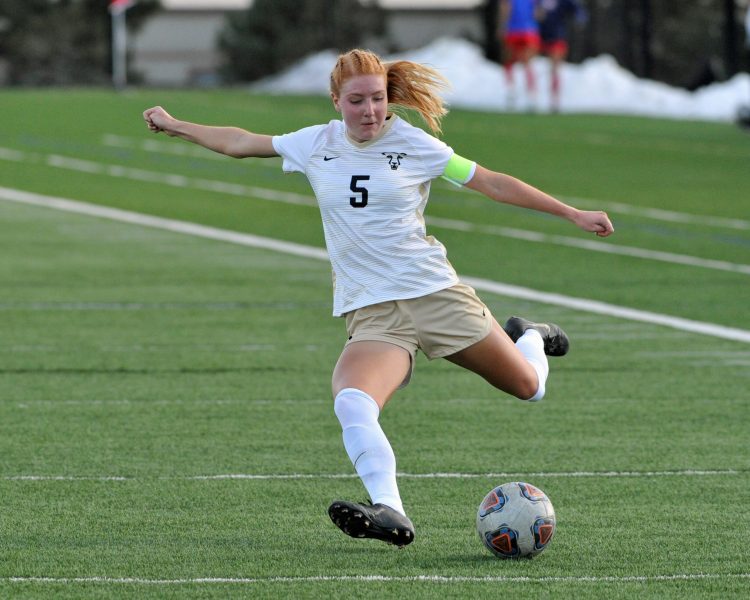 For Aleesa Muir '20, captain of the UCCS women's soccer team, life – including soccer, school and thinking about the future – is "all about balance."
Muir balances more than most. She's preparing to graduate with a bachelor's degree in biology focused on biomedical sciences. She's captain of a team vying for the NCAA Division II women's soccer championship. She holds a near-perfect 3.95 GPA. She helps chemistry professor James Kovacs conduct lab research on therapies to treat lupus. She's getting married in January. And she's planning a future that looks to be just as jam-packed as her life in college.
"I do best when I'm busy," she said, laughing.
The Colorado Springs native has spent her entire academic career in-state. After graduating high school from The Classical Academy in southern Colorado Springs, Muir spent a year playing for Colorado College's Division I team before transferring to UCCS.
She knew UCCS coach Sian Hudson, then assistant coach of the women's soccer team, while they were both at CC. But when Muir transferred to UCCS, she didn't even consider playing soccer.
"I figured that part of my college career was over, and I was prepared to just be a student," Muir said.
Now finishing her senior season playing defense for the Mountain Lions, Muir is thinking about taking her soccer career to the next level – playing professionally in Europe.
"Life happens, so that could change," she said. "But the option is there."
Fast, athletic and left-footed, Muir has won RMAC Defensive Player of the Week three different times this year, started in all 20 of this season's games and set a career high of four goals and three assists, including one game-winning goal.
But when asked what her greatest strength is as a player, she responded, "My work ethic."
"I'm not a typical team captain," she said. "I'm not the loudest. I'm not what they call a 'rah rah' captain. I lead by working the hardest."
"Sometimes they'll call me a workhorse on the field," she continued. "I like to practice exactly how I'll play in the game. I'll be willing to make a tackle, put my body on the line."
Muir's focused approach is balanced by the more exuberant leadership style of her co-captain, midfielder Tarah Patterson '21. After an undefeated season, the Mountain Lions' winning streak came to a close through a shutout loss to Colorado School of Mines in the RMAC Tournament. Both players had work to do to help the team recover.
"In some ways, it was a good learning experience to have right before the [NCAA Tournament] game on Sunday," Muir said. "We had to figure out how to move forward, reflect and regroup. It's almost like starting a whole new season."
As she prepares for the tournament – and life after graduation – Muir is staying true to her philosophy: it's all about balance.
After graduating this May, she's interested in playing professionally for a team in Europe. She wants to travel, and she would love to play soccer while she still can.
"This is the only time in my life that I'll be able to play soccer," she said. "When I'm 50, I won't be able to say, 'Yeah, I think I want to go pro!'"
But she's open to a change of plans.
"Whether or not I end up playing professionally, I'm planning to go to medical school – as long as I get in, that is," she said, with a quick smile.
Muir plans to join the Air Force as an officer, then pursue medical school to take advantage of an opportunity to receive a full-tuition scholarship, with books and expenses paid for so long as she spends time in the future working as an Air Force physician.
She would not only be following in the footsteps of her brother, who is in his third year of medical school and on track to become an anesthesiologist. She would also be following in her dad's.
"My dad is retired Air Force, and growing up, I had access to all of those benefits," she said. "As I think about starting my own family, I would want to do it for them."
But even as she thinks about her future career, balance is top of mind. Muir is conscious that a practicing physician's hours can be long and offer little in the way of work-life balance. She's considering practicing dermatology, which has fewer emergency scenarios and might offer more in the way of flexibility.
Still, the promise of a pro career in soccer hovers just over the horizon.
"I used to say, 'This is exactly what I'm going to do with my life,'" Muir said. "And now that I'm about to graduate, I'm like, 'I'm open to whatever!' It might be med school. It might be soccer, then med school. I'm open to anything."
One thing is for sure. Whether the Mountain Lions win or lose during the NCAA Tournament, and whether she chooses soccer, or the Air Force, or med school – or maybe all of the above – Muir's future is looking brighter every day.