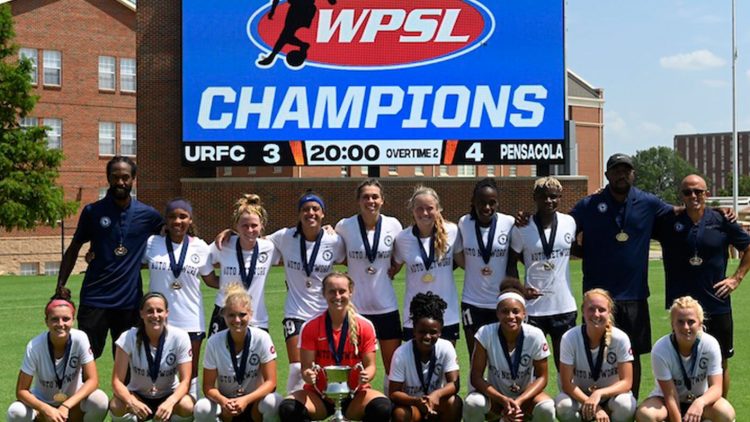 The UCCS women's soccer team has seen unprecedented success in the last two years under head coach Sian Hudson. For student-athlete Aleesa Muir, that same drive and success is carried into the offseason as she helped semi-professional team Pensacola FC win the Women's Premier Soccer League 2019 national championship this summer.
"For a lot of players, it's their dream to win a national championship," Muir said. "But the sad reality is that many players don't get the chance to do that. To be able to play for a National Championship makes you love and cherish these moments as you move forward in your career. It has also really given me the opportunity to lead UCCS for this upcoming fall."
Pensacola FC is one of over 100 teams in the world's largest women's league. It is one of the most elite teams within the WPSL as Pensacola finished as a finalist in five of the last seven years. The 2019 season marked the third consecutive trip to the WPSL Final for Pensacola as it capped off the championship run with a perfect 12-0-0 season.
Muir, who played nine games for Pensacola's backline in 2019, is paving a strong path to pursue a professional career post college, after spending a whole summer with a brand new team.
"The best thing about this summer has been getting to learn from a new group of people, both the players and coaches," Muir said. "I was able to grow a lot as a player and an individual.
"The challenge of playing with a new group of people is that it becomes hard to find your role on the team, and learn the different playing styles."
A 2019 scholar All-American, first team all-region and first team all-conference selection, Muir competed in a semi-professional league that has produced athletes such as Alex Morgan, Megan Rapinoe, Abby Wombach, Julie Foudy and Brandi Chastain. In the 2019 Women's World Cup, 28 WPSL alumni earned a roster spot.
Muir's summer experience with Penascola FC has really opened her eyes as to what Division II student-athletes can accomplish.
"A benefit from this summer and playing on a Division II team is that it allows other DII players to really look at the situation and realize if you're a really good player on a Division II team, you can still be really successful. The division you play in does not define you."
The senior defender is entering her third season as a Mountain Lion, and is looking to hold nothing back as she wraps up her college career and strives to become a pro.
"With it being my senior year, I just want to have a good time since this is my last hoorah," Muir said. "I think practicing hard each day, and personally working on my tactical components, will be really important if I do want to play professionally."
UCCS opens their season with a home matchup against Lubbock Christian University at 6 p.m., Sept. 5 at Mountain Lion Stadium.