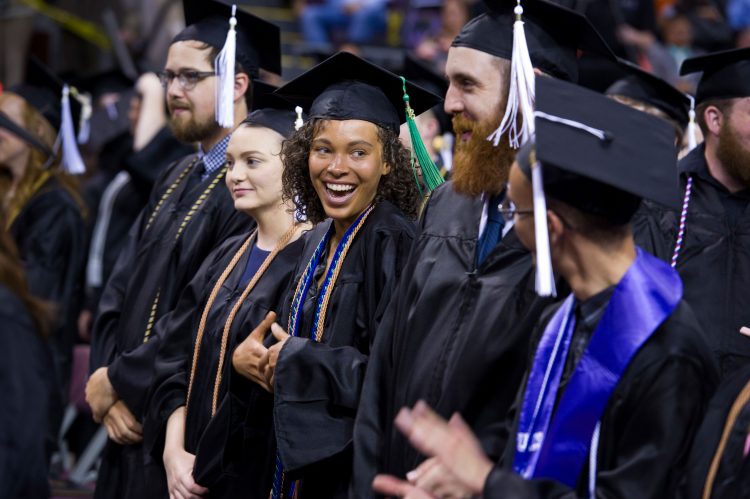 A UCCS degree remains one of the top investment choices in Colorado in the first Return on Investment Report from the Colorado Department of Higher Education. Key takeaways from the report show that UCCS students graduate with less debt and more earning potential than alumni from many other Colorado institutions.
Earning potential
The median salary for a UCCS alum working in Colorado one year after graduation is $37,764 – higher than the median salary among all Colorado institutions.
UCCS graduates with a bachelor's degree earn more in their first year out of college and owe less in student debt among their peers across the state. Those graduating from UCCS with a master's degree earn a median salary of $50,996 one year after graduation. And a UCCS doctoral graduate will earn $88,660 – 41 percent above their doctoral peers – one year after graduation.
After 10 years, the median salary for UCCS graduates is $58,708 with a bachelor's degree, $66,476 with a master's degree and $136,824 with a doctoral degree.
Over the course of a lifetime, a student with a bachelor's degree earns at least $630,000 more than a person with just a high school diploma. A person with a master's degree earns at least $1.1 million more than someone with only a high school diploma.
Less debt
UCCS students also graduate with less debt than their peers. In the last five years with inflation, the average debt load for an undergraduate degree at UCCS has dropped nine percent to $16,589, the fourth lowest in the state. Financial aid awards increased to $44.6 million in the same five-year period. More than 70 percent of students at UCCS received some form of financial aid last year.
Commitment to affordability
The State of Colorado increased higher education funding by 13.1 percent for the 2019-20 fiscal year, which allowed UCCS to keep in-state tuition and fees for undergraduate students at the same rate as last year. While Colorado ranks No. 47 in the United States for state appropriations for postsecondary education, the average in-state tuition and fees at a four-year public school in Colorado is $11,140 per year, only 10 percent above the national average. UCCS tuition and fees are $10,200, $100 less than the national average.
"We believe that with our combination of academic rigor, affordable tuition and robust financial aid, we set our students up for success," said Chancellor Venkat Reddy. "As the only comprehensive regional research university in southern Colorado, and as an institution deeply committed to the public good, we serve a unique role in the region as we prepare our next generation of leaders."
Value of higher education
About 75 percent of all Colorado jobs and 97 percent of top ones—those that pay a living wage and have high growth rates—require a postsecondary credential. To help meet these industry demands, the CDHE aims to reach 66 percent educational attainment by 2025, up from 56.9 percent currently.
The inaugural Return on Investment report was directed by Colorado House Bill 18-1226. The report was required to included average student loan debt and average time to completion.
Related stories:
Undergraduate in-state tuition rates, all campus mandatory fees will remain the same in 2019-20