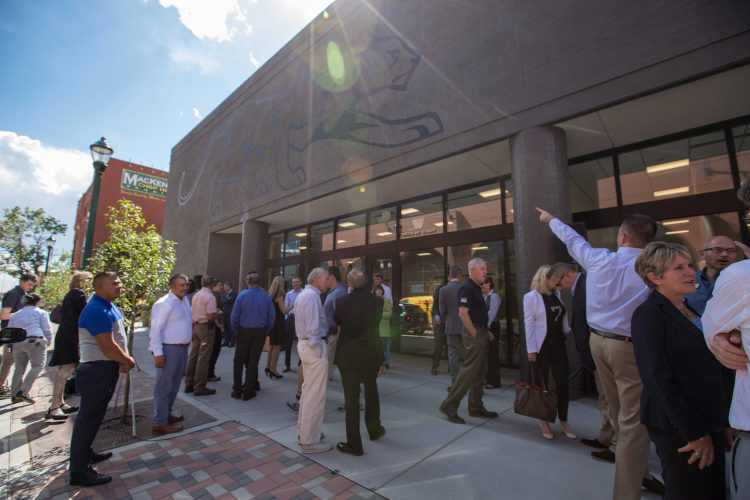 UCCS contributes nearly $600 million in economic impact to the state of Colorado, and Chancellor Venkat Reddy expanded on the impact figure and the university's work in partnerships, workforce development and community involvement during a presentation to the CU Board of Regents June 13.
"UCCS started because our business community recognized a university's importance in economic development," Chancellor Reddy said in his opening remarks. "We are truly a state university impacting our local community and our state. Our alumni stay in El Paso County and Colorado, and they have a significant impact."
More than 50 percent of UCCS' 46,000 alumni live in El Paso County, and 70 percent live in Colorado. Alumni have earned national and international recognition with a Pulitzer Prize winner, the first Native American astronaut and senior leaders with Microsoft, Salesforce and FedEx.
In 2018, UCCS opened the Ent Center for the Arts, UCCS Downtown, Mountain Lion Park and Mountain Lion Fieldhouse. The William J. Hybl Sports Medicine and Performance Center broke ground and is on schedule to open in April 2020. Reddy said that public-private partnerships have been important to the success of those projects to benefit the faculty, staff, students and the broader Colorado Springs community.
"In the last 10 years, we've put up three new buildings that wouldn't have happened without public-private partnerships," Reddy said. "We made these partnerships a priority in our 2030 Strategic Plan as we look ahead to the next 10 years."
The Hybl Center is funded through the Regional Tourism Act of the Colorado Office of Economic Development and International Trade, Penrose-St. Francis Health Services and private gifts. The 104,000-square foot center is projected to bring in 25,000 visitors each year as part of the City for Champions initiative. Penrose-St. Francis Health Services will provide clinical services and more than 1,000 UCCS students will enroll through the new Human Physiology and Nutrition Department. The clinical and academic programs will create the nation's first center to integrate undergraduate and graduate academic programs with clinical practice and research in a sports medicine and performance environment.
UCCS Downtown has hosted more than 250 events since it opened in September 2018. The facility was brought to reality through a collaboration between UCCS, Nor'wood Development Group, the City of Colorado Springs and the Downtown Partnership. UCCS Downtown has brought faculty, staff and students into downtown Colorado Springs and connected the business and government community with the university, creating a "coming together" place according to Chancellor Reddy.
More than 200,000 visits have been made at the Ent Center for the Arts since it opened in January 2018. The center has hosted campus-sponsored events through UCCS Presents and the new UCCS Artist Series, along with nearly 100 community events for concerts, lectures, receptions and graduations.
Mountain Lion Park hosted its second season of baseball in 2019 and Mountain Lion Fieldhouse hosted its first season of track and field competition in 2018-19. The facilities have hosted community, high school and championship events.
UCCS leads the Mountain West Cybersecurity Consortium and receives a $2.8 million annual appropriation from the state of Colorado to lead cybersecurity workforce development efforts. The Cybersecurity Building houses the National Cybersecurity Center and Exponential Impact, and construction will begin in fall 2019 for academic research, classroom and office space.
The university has worked with regional organizations to create new workforce development programs. An RN-to-BSN completion program for 24 nurses at UCHealth Memorial in 2018-19 will double to 48 next year to address shortages of baccalaureate prepared nurses in the region. A new scholarship program, Bridge Forward, is designed for middle-class students who don't qualify for need-based financial aid but often struggle to afford a university education. UCCS is redesigning its career services for greater impact and involve students earlier in their academic careers.
"Our community sees us as an important economic engine for helping our community thrive," Reddy said in closing. "We have a community that is extraordinarily supportive of us."