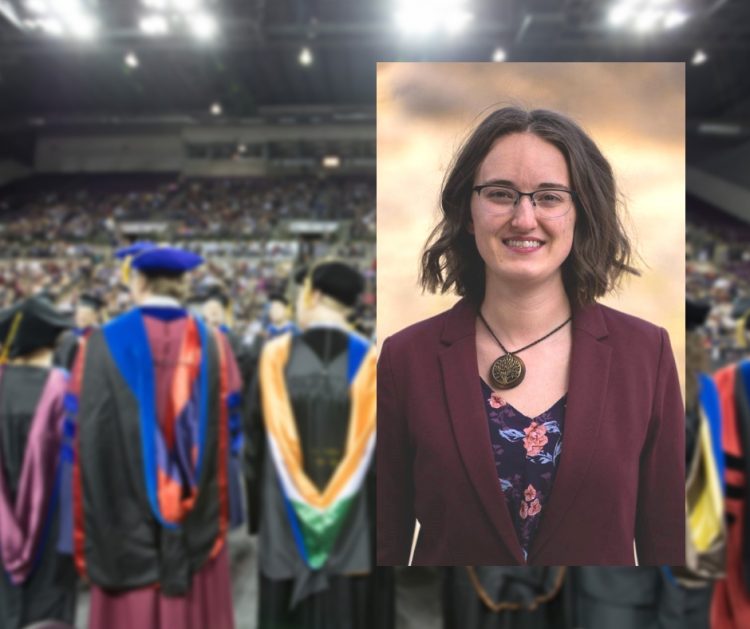 There were few times in Krista's high school career when she was asked to lead a group of her peers. She wasn't given the title "Most Likely to Succeed" and she wasn't eager to attend college. Today, she leads her peers as the president of the Reisher Scholars Club and her dream is to help struggling students.
Krista Wallace, a charismatic soft-spoken senior at UCCS is honest about her past struggles. During high school she was not the best student. Wallace graduated after attending summer and night school to meet graduation requirements. While she was no stranger to struggles, she is now proud to be a nontraditional student with a 3.89 GPA, is the recipient of not just one, but three scholarships, and has worked a full-time job throughout college.
"I remember teachers at my high school not giving me a test in class because I was already failing and they saw no reason for me to even take the test," Wallace said. "My turning point was a counselor I spoke to who believed in me and said what I needed to do to graduate."
To say Wallace was busy her senior year in high school was an understatement, and upon graduation other life events did not allow her to slow down. Two years after high school Wallace learned her mother was diagnosed with cirrhosis of the liver due to alcohol consumption. Shortly after her mom's diagnosis, her father too was experiencing health complications.
Both diagnoses meant Wallace put plans on hold. She took a gap year in between high school and eventually enrolled at Pikes Peak Community College. She took one class at a time, working various retail and service industry jobs while caring for both of her parents. The jobs paid the bills, but Wallace knew she was meant for more. She loved interacting with people and wanted to impact the lives of those who had similar challenges while in school as she did — students who needed an extra hand to help them see their own potential.
After attending PPCC for six years, Wallace learned about a scholarship fair at UCCS. She discovered UCCS offered a 60-for-60 enrollment, where students with 60 credits or more could apply to UCCS and all credits would transfer. She also learned about the Karen Possehl Women's Endowment scholarship, the Reisher Scholarship and the Reach Your Peak scholarship program. All of which she applied for and was awarded the scholarships.
Fast forward and UCCS has been home to Wallace for two years. She will graduate May 2019 with a bachelor's degree in psychology and a minor in student affairs in higher education. She has applied to, and been accepted into, two graduate schools. Looking back on her journey, Wallace is proud of herself and never doubted she'd be where she is today.
"I didn't always know which path I'd be on, but I knew I wanted to go for my bachelor's degree, become a counselor and change someone's life for the better the way my high school counselor stepped in at the right time to change mine," Wallace said. "Having the support from scholarships also helped me reach my goals, someone invested in me and this made obtaining my degree a reality."
With acceptance to the top two of her graduate school choices, Wallace now has a big decision to make-— which school will it be?
"Both schools offer the graduate degree I'm seeking, and one offers a master's in student affairs in higher education with an emphasis in leadership and the other is higher education in student affairs with a concentration in counseling," Wallace said. "This is a great dilemma to have because both schools would be a good fit."
Being committed to her studies and excited about her future sparked passion in Wallace and she found her calling. Scholarship support also eased the burden of paying for school and she was able to make more connections on campus working less hours. Wallace credits her boost in confidence to UCCS. She is a leader because many saw this quality within her and made sure she saw it too.
The end to Wallace's undergraduate college career will be celebrated by her father, siblings, close friends and family. The one person missing will be Wallace's mother who passed away in 2018 due to complications from her illness.
"I know I'll feel my mother's presence as I walk across the stage in May. She always believed I could do what I set my mind to and I'll miss her, but I know she will be with me."
Wallace's father still has health concerns; however, he will attend commencement to see his daughter receive her degree.
"My father thinks I'm the smartest person in the world, I am the first in my family to graduate from college," said Wallace. "Everyone is so proud of me and I am proud of me."