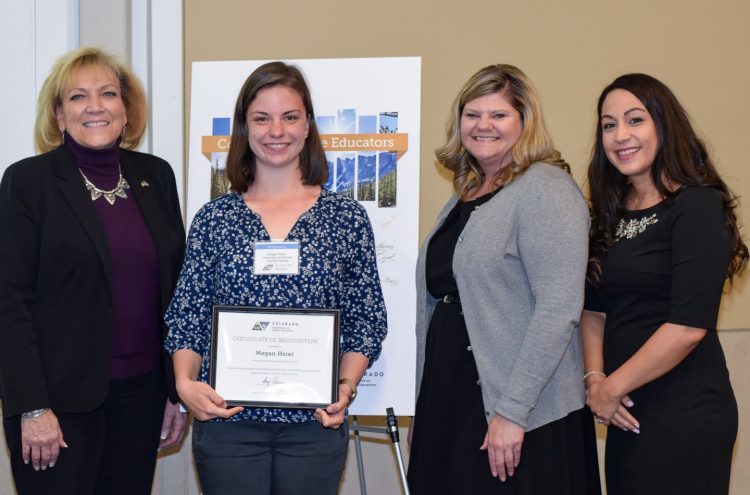 Megan Heier and Shannon Leupp, who both completed the Alternative Licensure Program with the UCCS College of Education, were recognized as top teacher candidates in the state on the Future Educator Honor Roll by the Colorado Department of Higher Education. Angie Paccione, executive director of the CDHE, celebrated the accomplishments in a ceremony at History Colorado April 29.
"These licensure programs provide different pathways for teachers to earn the certification they need to teach in our public schools," said Valerie Martin Conley, dean of the College of Education. "We're proud of the work that Megan and Shannon have done in their schools to inspire success in southern Colorado."
Heier, a graduate student in curriculum and instruction, teaches sixth grade science at Russell Middle School of Performing Arts in Colorado Springs. She credits her own middle school science teachers for igniting her love of math, science and teaching. Heier designs lessons that challenger her students to be critical thinkers and problem solvers, and she builds in supports and resources to support students.
Luepp earned her bachelor's degree in history in 2006 and her master's degree in history in 2009. She taught history at UCCS and Pikes Peak Community College and completed her licensure through the Pikes Peak Board of Cooperative Educational Services and UCCS. Luepp currently teaches high school social students at Miami Yoder JT60 and co-wrote curriculum for the school's Scholar Program in her world history and geography class. She also worked with the school's English teacher to develop literacy history projects to improve reading scores.
The Colorado Future Educator Honor Roll recognized 27 teacher candidates to kick off Colorado Teacher Appreciation Week May 6-10.