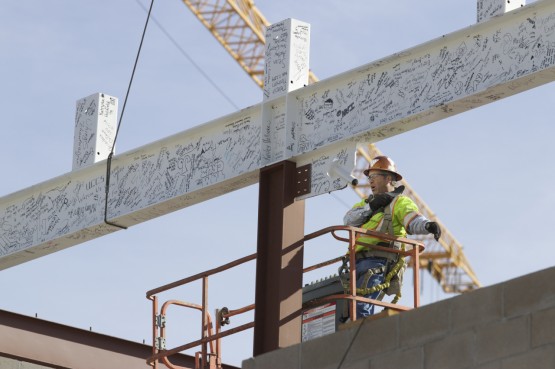 Students and employees can be a part of campus history by signing the construction beam that will be the final piece of structural steel on the William J. Hybl Sports Medicine and Performance Center. The beam will be available on the West Lawn May 9 and will remain on the lawn until at least May 31.
The beam will be placed on the student wing in late July during a "topping off" ceremony. The tradition dates back to 700 A.D. Scandinavia, and today those involved in construction will sign their names on the final piece of steel to symbolize teamwork, high-quality craftsmanship and future good luck.
Similar beams have been signed by the campus community for the Ent Center for the Arts, the expansion on the Gallogly Recreation and Wellness Center, the Village at Alpine Valley and the Lane Center for Academic Health Sciences.
Construction on the Hybl Center started in November 2018. It is on budget and on schedule for an April 2020 opening.
The 104,000-square foot Hybl Center will be the first of its kind to integrate undergraduate and graduate education with clinical practice and research in a sports medicine and performance environment. Penrose St. Francis Centura Health will manage the clinical operations and 1,500 exercise science, human anatomy, physiology, athletic training and nutrition students are projected to study in the facility. The project received supplemental funding from the Regional Tourism Act of the Colorado Office of Economic Development and International Trade through the City for Champions initiative.
Previous stories:
UCCS, Penrose-St. Francis break ground on Hybl Sports Medicine and Performance Center