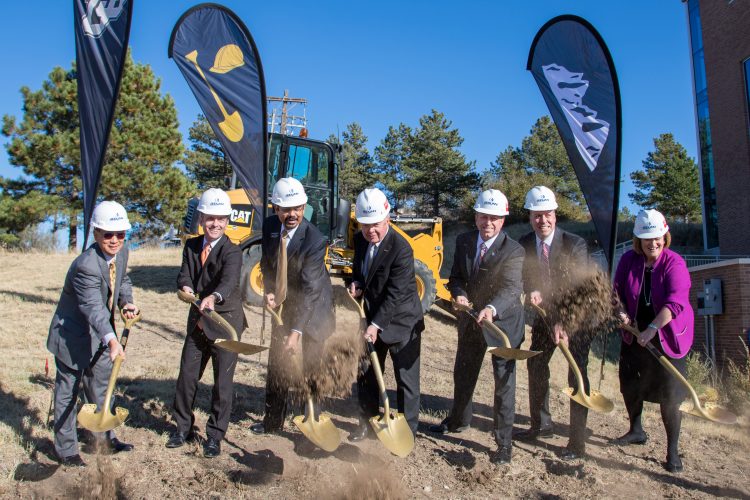 Officials from UCCS, Penrose-St. Francis Health Services and the City of Colorado Springs celebrated the start of construction activities with a groundbreaking ceremony of the William J. Hybl Sports Medicine and Performance Center.
"I always dream about our university being part of the community, and the community being part of the university, and that's exactly what's happening today," said Chancellor Venkat Reddy. "I truly believe the center will be a one-of-a-kind facility in the nation, if not the world."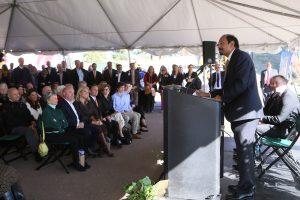 The 104,000-square foot facility will be the first in the nation to integrate undergraduate and graduate academic programs with clinical practice and research in a sports medicine and performance environment. The project received supplemental funding with the Regional Tourism Act of the Colorado Office of Economic Development and International Trade through the City for Champions initiative.
"I've said it before, but this is an awfully good time to live in Colorado Springs," said Mayor John Suthers in his remarks. "This project represents a significant benefit to our city's economy and the community's cultural and sports offerings."
The center is projected to be the home for 1,000 exercise science students and 500 human anatomy and physiology students by 2021. Three centers of distinction will perform research in tactical and occupational performances, athletes and individuals with disabilities, and health and performance in extreme environments.
"We are going to create a space that will allow our physicians to provide transformational care," said Brian Erling, president and CEO, Penrose-St. Francis Health Services. "This is going to be a laboratory for excellence."
Hybl, the namesake for the new facility, is a long-time supporter of UCCS. As chairman and CEO of the El Pomar Foundation, he has also been a long-time advocate for the Pikes Peak International Hill Climb, Colorado College Hockey, the United States Olympic Committee and Broadmoor World Arena.
"The association and the work that has been done at UCCS is something of great interest to the El Pomar Foundation," Hybl said. "I'm very honored and proud to be part of this program."
Site work on the $61.4 million facility will begin in early November and the center is scheduled to open April 2020.