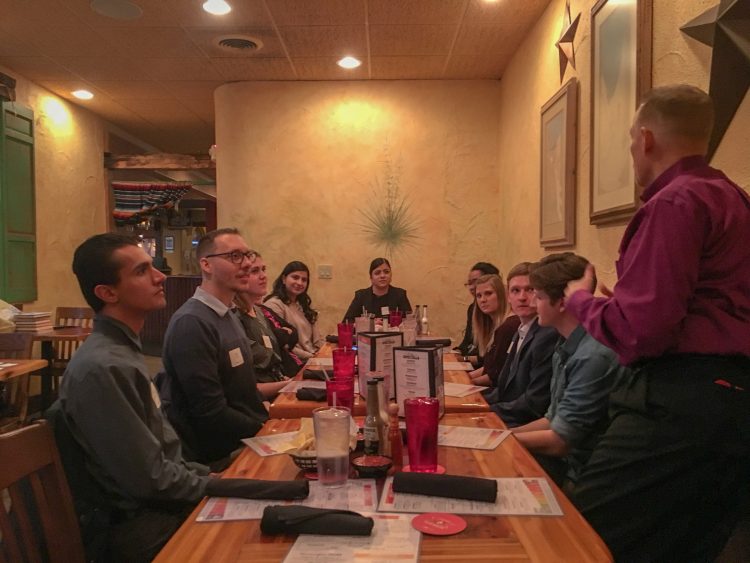 Editor's Note: This is a first-person account of the first Dinner with 12 Mountain Lions hosted by the Office of Alumni Relations. Tanner Harbick is a junior finance major and a student assistant in Alumni Relations.
In March, I had the pleasure to meet both Kent and Stephannie Fortune at an event that they offered to UCCS students. They invited 12 of us to sit down for a relaxing evening at Jose Muldoon's. The goal was to have a casual dinner to get to know students, give the students an opportunity to make a few new friends and to give back to UCCS.
I was unfamiliar with most of the people there, only meeting them once or twice, so I was a bit shy to just jump into conversation. But after only a few minutes, I was right in the thick of it. Kent and Stephannie were quick to involve everyone. They introduced themselves and gave us a little background on themselves.
I was thrilled to hear that Kent played on the first UCCS basketball team. The stories he has from that experience were wonderful to hear. Kent worked at USAA for quite some time and had tons of advice that he shared with us throughout the night. Stephannie also had an arsenal of experiences, and her stories from the political field are things you don't hear from just anyone.
Kent and Stephannie split themselves up to each end of the table to converse with us. Kent came to my end of the table first and we began asking him questions. Some questions consisted of his career and what he did at USAA. About half way through dinner, the two switched sides and Stephannie came to the end I was on. I've had the chance to meet Stephannie a few times before this event but have never had the chance to sit down with her in this way. The group started talking with her and conversing about similar things as we did with Kent. We talked about career advice and how she has grown over her life. She shared with us the once-in-a-lifetime opportunity she had of checking out one of the past presidents' private jets. She went on to share many more of these breathtaking stories throughout the night.
As we were finishing up our entrees, Stephannie and I started talking one-on-one about a program she is involved in named the QUAD Innovation Program. This sparked my interest due to the fact that I was wanting to apply for an internship with the program. We had a great conversation about the program, and she was more than willing to reach out to some people about my interest. So not only was this a dinner with some amazing people, it was also an opportunity to network and meet others around the community of Colorado Springs.
As the night began to wrap up, Kent and Stephannie stood up with something special for all of us students. They both really enjoy reading and picked out some books that they felt had a lasting impact on their lives. There were 12 books that they gifted each of us students in the hopes that they may have a positive impact on our lives as well.
In the end, the passion that they have for giving back holds strong to their characters and allows students to have the opportunity to meet community members such as Kent and Stephannie. The night also gave me the chance to meet some new friends and ultimately led to making plans to golf with one of my fellow students. In the end, the passion that Kent and Stephannie have for giving back holds strong to their characters and allows students to have the opportunity to meet community members such as themselves.
The Office of Alumni Relations invites alumni to volunteer to host a dinner with 12 current students. For additional information, contact Nicole Tugg, alumni and donor program manager, at (719) 255-3764 or [email protected].