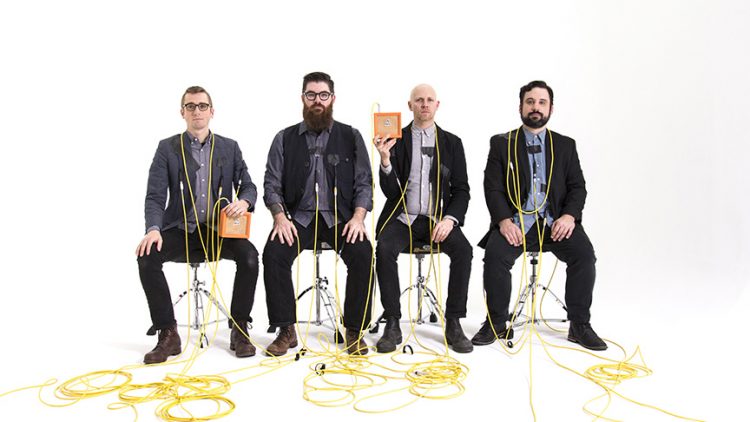 With innovative multi-genre original productions, sensational interpretations of modern works, more than 20 albums, and an "exhilarating blend of precision and anarchy, rigor and bedlam," by The New Yorker, Sō Percussion has redefined the scope and role of the modern percussion ensemble. Tickets for the group's April 11 Artist Series performance in the Shockley-Zalabak Theater at the Ent Center for the Arts remain on sale through the UCCS Presents Box Office.
Their repertoire ranges from "classics" of the 20th century, by John Cage, Steve Reich and Iannis Xenakis, et al, to commissioning and advocating works by contemporary composers such as David Lang, Julia Wolfe, Steve Mackey and Caroline Shaw, to distinctively modern collaborations with artists who work outside the classical concert hall, including Shara Nova, the electronic duo Matmos, the choreographer Susan Marshall, Wilco's Glenn Kotche, Bryce Dessner and many others.
Sō Percussion also composes and performs their own works, ranging from standard concert pieces to immersive multi-genre programs—including "From Out A Darker Sea," "Imaginary City," "Where (we) Live" and "A Gun Show," which was presented in a multi-performance presentation as part of BAM's 2016 Next Wave Festival.
Sō Percussion was founded on a handful of existing pieces, believing that the greatest works in the field had not yet been written. Since then, the group has been dedicated to commissioning new works from the most exciting composers of our time.
This season, Sō Percussion collaborated with a range of incredible artists, working to bring original work to audiences around the world.
The group's performance at the Ent Center for the Arts will feature a brand-new work, "Torque," by the talented composer/pianist Vijay Iyer (who will appear at the Ent Center on May 8—more info HERE).
A "torque" is a twisting force, and Iyer's new mallet quartet for Sō Percussion is a dizzying display of virtuosity and inventiveness. In this four-movement piece, the renowned creator adapts his unique concepts of rhythm to percussion keyboards (two marimbas and two vibraphones). Breathtaking accelerations, ambiguous and wonky odd-number grooves, a lyrical marimba chorale, and straight-ahead 4/4 reminiscent of Prince mark a journey that only this combination of artists could imagine.
The evening will also feature three more exhilarating selections—including "Amid the Noise," an original set of short works by founding member Jason Treuting—in what is sure to be the most unique, exciting percussion performance you will experience.