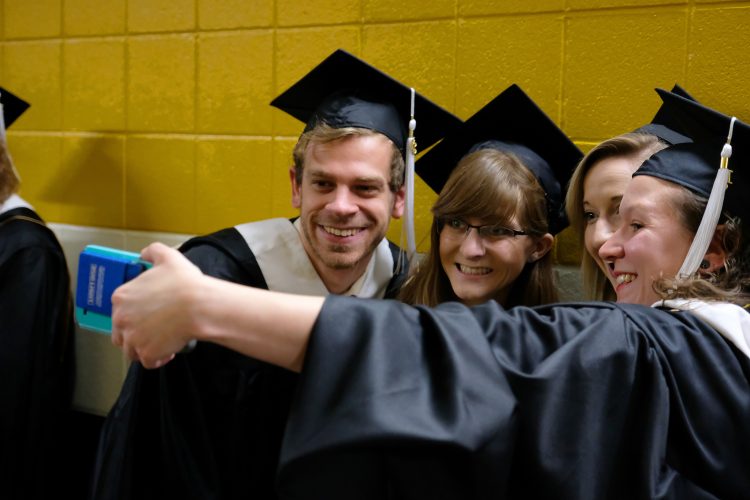 Students preparing to participate in the spring 2019 commencement ceremonies will have a chance to order regalia, diploma frames, class rings, announcements and have their questions answered during the 2019 Graduation Fair April 9-10 in University Center 303. The fair will run from 10 a.m. to 6 p.m. April 9 and 9 a.m. – 4 p.m. April 10.
A professional photographer will be available for students who want photos in commencement regalia or in business attire for job search profiles. Representatives from the Graduate School, Career Services, Registrar and Alumni Relations will also be available to answer any questions for commencement. Alumni Relations will also hand out free t-shirts for graduating students.
Commencement regalia is only available through the Graduation Fair or at the UCCS Bookstore. Online orders for regalia will begin April 11 at uccsbookstore.com.
Students preparing to participate in commencement should register at uccs.edu/commencement/spring-ceremony. Students who haven't completed a Senior Audit yet should contact Academic Advising at 255-3260 to schedule an appointment.
The 2019 spring commencement will take place May 17 at the Broadmoor World Arena. The morning ceremony for the College of Letters, Arts and Sciences is at 10:30 a.m. The afternoon ceremony for the College of Business, School of Public Affairs, College of Education, College of Engineering and Applied Science, and the Helen and Arthur E. Johnson Beth-El College of Nursing and Health Sciences is at 2:30 p.m. Complete commencement details, including a checklist and frequently asked questions, is available at uccs.edu/commencement.