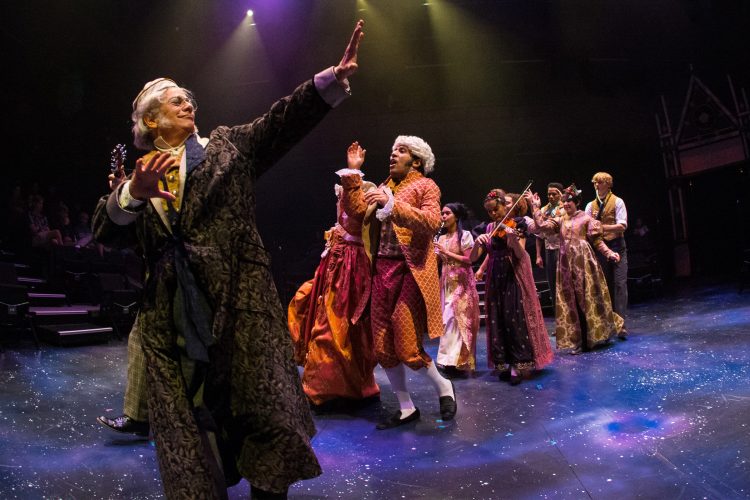 History, legacy and community: all are present in Theatreworks' upcoming 2019-20 season. Spanning centuries, the lineup explores how we tell stories of our past to understand the present and imagine the future. The new season is the first planned by artistic director Caitlin Lowans, who joined Theatreworks in August 2018 as only the second artistic director in the professional company's 43-year history.
Subscriptions to the 2019–20 season are on sale now at theatreworksCS.org/subscribe or through the UCCS Presents box office at (719) 255-3232.
MAIN SEASON
Shakespeare at the Ranch: "Measure for Measure," June–July 21, directed by Kathryn Walsh
Theatreworks' 2019-20 season opens with "Measure for Measure" at Rock Ledge Ranch Historic Site—the company's first time producing the play after decades of summer Shakespeare. In a city that veers between zanies and zealots, a corrupt official offers a young nun a chance to save her brother's life in exchange for her body. "Measure for Measure" raises complicated questions around mercy, justice and how to wield power.
"The Mountaintop," Aug. 22–Sept. 8, directed by donnie l. betts
Katori Hall paints a gripping re-imagination of Dr. Martin Luther King, Jr.'s last night on earth, set in his room at the Lorraine Motel, as a mysterious stranger arrives with surprising news. This incisive play centers on the humanity of Dr. King—played by Theatreworks favorite, Calvin M. Thompson—in the shadow of his monumental legacy.
"Arcadia," Oct. 10–27, directed by Caitlin Lowans
Only the brilliant Tom Stoppard could combine love, landscape and the Second Law of Thermodynamics with such sparkling results. Moving between an uprooted garden in 1809 England and two scholars solving a mystery in the present day, "Arcadia" blurs the lines between past and present, order and chaos.
"Around the World in 80 Days" Dec. 5–22
A small cast deftly plays a globe's worth of characters in this fantastic adaptation of the classic novel. Phileas Fogg bets that he will circumnavigate the world in only 80 days, then finds the task more challenging than he ever imagined. How will he get home? This rollicking, inventive adventure will be a holiday hit for the whole family.
"Gloria," Jan. 30–Feb. 16, directed by Tasia A. Jones
This whip-smart modern satire tackles fear in our modern-day media culture. In a bitingly funny, non-traditional play, the story follows a group of aspiring writers tired of their boring desk jobs on a normal workday. After tragedy strikes, we follow the toxic fallout as the workers cope with their lives, ambitions and rivalries in the aftermath.
"An Iliad," March 12–29, directed by Max Shulman
One actor and one musician tell Homer's timeless tale of fate and fury through vivid storytelling and live music. This imaginative theatrical experience brings us on the battlefield where gods, heroes and empires clash in a quest for vengeance and glory—an age-old story reinvented for our modern era.
"Passion Play," April 23–May 10, directed by Caitlin Lowans
This inventive epic takes us behind the scenes of three communities in three periods—Elizabethan England, Germany during the rise of Hitler and Vietnam-era South Dakota—all staging the Passion of the Christ. This ambitious play asks how individuals find themselves in a community that allows them to play just a single role.
ASSOCIATED EVENTS
UCCS Student Show: "Hair," March 12–22
Prologue
After more than a decade and over 100 guests, the "Prologue" lecture series continues as more than an introduction to the plays. Guided conversations with distinguished guest speakers will continue on the first Sunday performance of each show in the 2019–20 season. There will also be marquee artist events, town halls (panel discussions on issues in the arts), short Thursday scholar chats, and Sunday actor conversations. "Prologue" is sponsored by the Office of the Chancellor; the Department of Visual and Performing Arts; the College of Letters, Arts & Sciences; and Theatreworks.
Subscriber Weeks
Theatreworks is excited to announce Subscriber Weeks during the first two weeks of each production run. There will be a champagne toast on the first Friday of each show and additional opportunities for subscribers to gather together and celebrate.
Mobile Shakespeare
Theatreworks' new mobile Shakespeare initiative will feature local actors and free public performances of "A Comedy of Errors." Performances will be held at schools, community centers, and local parks throughout the summer and fall.
Theatreworks is a professional, regional theater company dedicated to creating challenging and innovative productions of classic and contemporary theater for the enjoyment, education and stimulation of UCCS students, faculty, staff and Pikes Peak region community members. Theatreworks was founded in 1975 as an outreach program of UCCS.