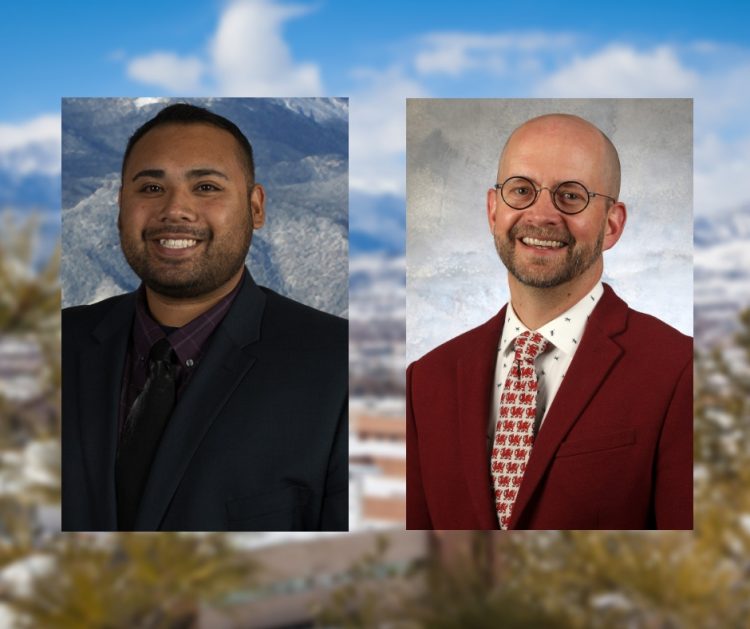 Jesse Perez, assistant director M.O.S.A.I.C., and Martin Garnar, dean of the Kraemer Family Library, will be recognized for their work in developing a culturally and intellectually diverse university community as recipients of the CU President's Diversity Award. The two UCCS employees will join other award-winning individuals and groups from throughout the system at a reception at 3 p.m., March 21, at the 1800 Grant St., Denver.
Perez's longstanding commitment to achieving excellence in diversity and inclusion – as a UCCS undergraduate and graduate student, and now, a staff member – has had a great impact on UCCS and the larger community. On campus, he has helped create and maintain bridges between various campus departments, administrative committees, groups and initiatives aiming to enhance equity and social justice. Perez has also worked with nonprofit organizations to provide resources for underprivileged and marginalized communities of southern Colorado.
Perez's nomination materials included multiple references to his leadership and guidance. "Jesse is one of the most significant leaders on our campus and is looked to by departments for guidance on some of the most complex and controversial aspects of creating an inclusive environment. He is able to bring people together, listen with compassion, and then provide feedback in a way others can really hear it and act upon it."
Garnar is the 2019 faculty recipient. Among notable service endeavors, he has made significant contributions to UCCS and beyond with his "Just Talk" programming, a dialogue series regarding power, privilege, equity and inclusion – on campus, in the community and society at large. He has created campus-wide momentum with various constituents and departments by providing programming for more than 50 events since 2016. The dialogue series has included topics such as Transgender Issues, Diversity of Thought, Queer Voices, Civic Power, Democracy in Action, Suicide Awareness, #MeToo, Religious Freedom in America and Academic Freedom.
Garnar's nomination highlighted his efforts to develop the series, and his ongoing work to expand on the dialogue. "Dean Garnar's activities demonstrate his leadership and commitment to the enhancement, development and sustainability of diversity and inclusive excellence."
Sandy Ho, director of the Languages Excel Center, received one of three commendations and will also be recognized at the reception. Since November 2015, she has nearly doubled student visits in the Languages Excel Center and implemented diversity and inclusion concepts in her student staff trainings. She is an active member on campus on faculty and staff committees, as an advisor to student organizations, and is active in several city and county organizations.
The award recognizes significant achievements of university community members in developing a culturally and intellectually diverse university community reflective of inclusive excellence. Awardees, each of whom receives $2,000, engage in meaningful diversity activities beyond their primary CU responsibilities.
UCCS President's Diversity Award recipients
2005 – Josephine Benavidez, director of the Pre-Collegiate Development Program
2007 – College of Education
2008 – The Matrix Center for the Advancement of Social Equity and Inclusion
2009 – Department of Visual and Performing Arts
2012 – Anthony Cordova, director of the M.O.S.A.I.C.
2013 – Sonja Braun-Sand, assistant professor of chemistry and biochemistry
2016 – Office of Veteran and Military Student Affairs
2019 – Jesse Perez and Martin Garnar