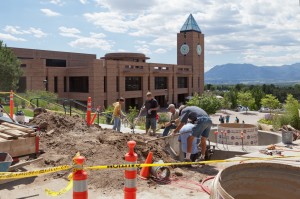 As contractors prepared a concrete mounting base near the northeast corner of the Osborne Center for Science & Engineering this week, campus leaders called on the UCCS community to attend an 8 a.m. Sept. 12 ceremony for the dedication of new campus artwork remembering the events of Sept. 11, 2001 and highlighting the interconnectedness of the globe.
"This is an important date in the history of our campus," Brian Burnett, vice chancellor, Administration and Finance said. "I know it is early on a Monday morning but I hope people will come out to see new artwork designed by UCCS students that will serve as a reminder not only of the events of Sept. 11 but also of the connectedness of our world."
Campus and university leaders, including Peter Gorder, associate professor, College of Engineering and Applied Science, and students involved in the display's design, will make brief comments at the dedication before revealing a display that incorporates elements of a larger piece that will be displayed at the Cheyenne Mountain Air Station. Dedication ceremonies for the Cheyenne Mountain sculpture are scheduled for 9:30 a.m. Sept. 12 at the air station.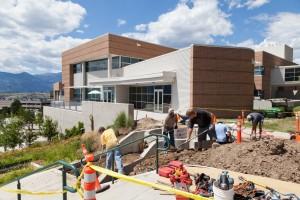 The Cheyenne Mountain display incorporates a beam from the World Trade Center around four pillars representing sentimental perspectives from the 9/11/2011 attacks on New York and Washington, D.C. The design team was guided by Gorder and included Matthew Martin and Andrew West, members of the class of 2011. Last September, UCCS was selected to lead the design of a sculpture crafted from a 750 pound beam from the World Trade Center donated by the National Homeland Defense Foundation. In October, the campus participated in a transfer of the beam to the Cheyenne Mountain Air Station.
— Photos by Jeff Foster, University Advancement
To see previous stories about the UCCS efforts and photos of the World Trade Center beam transfer, visit:
https://communique.uccs.edu/?p=1804
https://communique.uccs.edu/?p=2141