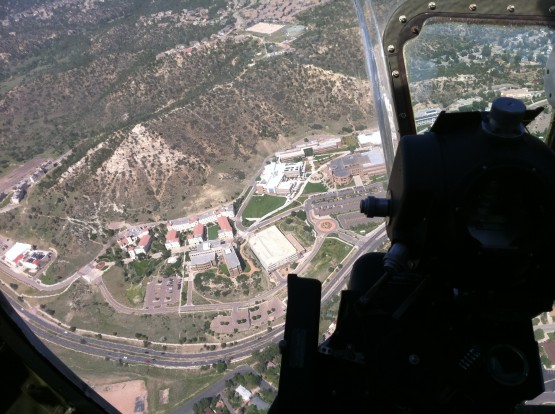 UCCS Mountain Lions supporter and local restaurateur Derek Cohn recently shared this view of the campus from the bombardier's seat of a WWII-era Boeing B-17 Flying Fortress.
"I flew in a WWII B-17 a few weeks ago, and took this picture while over UCCS.  I sat up in the bombardier's seat, and the equipment in front of me is the Norden bomb sight.  It's not everyday that you get to see UCCS from the bombardier's seat in a B-17," Cohn said.
In the foreground is a Norden bomb sight which was used to accurately drop munitions during WWII as well as Korean and Vietnam wars. The B-17 was used by the U.S. Army Air Corps in its campaign against Germany and was a four-engine bomber known for its toughness and high altitude capability. The U.S. Army Air Corps is now known as the U.S. Air Force.
The B-17 was in Colorado Springs in May as part of the Liberty Foundation's Salute to Veterans Tour.
— Photo by Derek Cohn