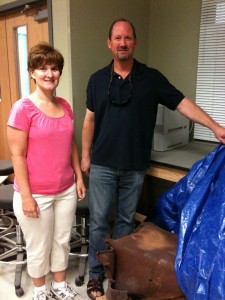 An eight-foot-long reminder of one of the most tragic events in United States history is housed in a UCCS engineering laboratory, awaiting a new home and permanent display.
Under a blue plastic tarp in the Science and Engineering building, a rusty, twisted, eight-foot-long 750 pound steel beam that once helped support one of the twin towers of New York's World Trade Center awaits the ideas of UCCS students for a permanent display at Cheyenne Mountain Air Force Station.
Peter Gorder, associate professor, Engineering, has assembled a four-person senior engineering student design team charged with designing a permanent display for the beam that represents the Sept. 11, 2001 terrorist attacks.
But Gorder is quick to say that while engineers will play an important part in the project, input from students across campus is needed.
"The 9/11 attacks were a defining moment for our country and, in particular, the generation that are currently students at UCCS," Gorder said. "The task the design team will have is to form a larger design committee to engage artists, consultants and many others to help with the creation of something truly monumental."
The skills of mechanical engineers in safely positioning 750 pounds of steel and preserving it from further corrosion are two examples of where engineering expertise is needed. Blending safety, structural integrity and preservation with creativity and aesthetics is the essence of  design, Gorder said, making the project a perfect capstone project for seniors.
At 12:15 p.m. Oct. 15 on El Pomar Center's plaza, plans call for a formal ceremony to officially receive the 9/11 artifact involving UCCS officials, Don Addy, president of the National Homeland Defense Foundation, and representatives of the Cheyenne Mountain Air Force Station. UCCS and area high school students who participate in ROTC programs will form a color guard to present U.S. and Colorado flags. UCCS student clubs will also be involved in the presentation.
Addy secured the beam and contacted UCCS about working with the foundation and Cheyenne Mountain officials to create a sculpture.
At the event, Gorder will introduce the student design team and call for assistance from the campus as the team begins its work. The beam will remain on campus until November, allowing time for careful measurement and to conduct tests about how to best preserve it. While on campus, the beam will be on display in the observation windows of SENG A311. By April, the team hopes to submit final designs for a monument to the foundation which intends to commission its construction and have it unveiled on Sept. 11, 2011.
"This is an incredible opportunity to preserve a piece of our nation's history," Gorder said. "As few campus citizens will have the opportunity to view the Cheyenne Mountain 9/11 Memorial Exhibit once it is installed, my goal, in addition to helping the students create a design of which we are all proud, is to have a companion piece to the Cheyenne Mountain exhibit find a permanent home on our campus."