The UCCS El Pomar Institute of Innovation and Commercialization and the Bachelor of Innovation Program are sponsoring a free all day seminar on the Small Business Innovation Research/Small Business Technology Transfer program and effective innovation proposal writing.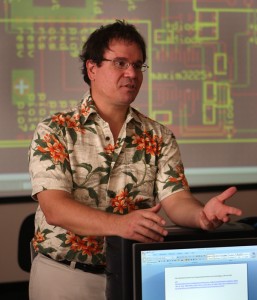 Terrance Boult, El Pomar Chair of Innovation and Security, will conduct the seminar scheduled for 9 a.m. Oct. 9 in room A206 of the Science and Engineering Building.
The workshop is an introduction to effective small business innovation research proposal preparation and lasts until 5 p.m. The first and last segments provide information on the SBIR program, surrounding the instruction in effective proposal writing. The lecture portion will include several examples of successful proposals.
The workshop will teach basic proposal preparation including narrative and budget preparation, and cover proposal submission, review processes, and time lines. Participants will learn general strategies for producing winning proposals that include finding topics and forming teams and doing background research for the proposal.
Anyone from CEOs to undergraduates can benefit from this workshop, geared to business research proposals from small groups or teams. The workshop is intended for budding entrepreneurs, small business owners, students and faculty who are interested in innovative research funding, even if they do not have a technical staff or a business.
Boult has 20 years of successful proposal writing experience and has raised millions of dollars for research at Columbia University, Lehigh University and UCCS. He has been involved in three startup companies that utilized SBIR programs, and has been actively involved in the SBIR and STTR program for more than a decade.
Boult has presented such workshops in other venues, costing participants up to $150 each. This EPIIC/BI sponsored workshop is free, but RSVP is required. Those who RSVP will receive sample proposals and budgets in electronic form, and lunch is provided. Space is limited to the first 40 people responding.
For details, visit http://innovation.uccs.edu/Proposal-10-9-10