The College of Engineering and Applied Science will offer master's degree in engineering to students in India beginning this summer.
R. "Dan" Dandapani, dean, College of Engineering and Applied Sciences, recently completed an agreement with India's Global Connect Academy that will allow professionals in India to complete advanced courses in information assurance,  the practice of managing risks related to the use, processing, storage, and transmission of information or data.
A pilot program will begin this summer with 20 students who have received U.S. security clearances enrolled. The students will use a combination of course delivery methods to complete the same degree requirements and academic rigor as students enrolled in on-campus courses. The students in India will take courses taught online by UCCS faculty members in addition to enrolling in courses on-site by UCCS faculty or by lecturers hired by UCCS.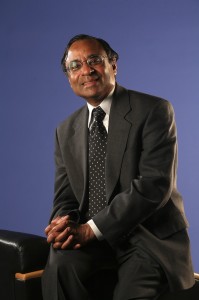 "This model is unique," Dandapani said. "To my knowledge no other Colorado universities are reaching out to this important global information technology hub in this niche area. This is a highly respected American degree delivered to Indians in India."
Dandapani estimates that 80 percent of the more than 1 million Indians working in the technology field lack formal credentials. As a result, demand is high for high-quality programs providing those credentials, new information, and delivered in a timely fashion. Plans call for the Indian students to enroll in their first course in July and to work year-round to complete the required ten courses to earn the master's degree. Ed Chow, professor, Department of Computer Science, and associate dean, College of Engineering and Applied Science, will travel to Maharashtra, India, to teach one of the courses.
Course fees and tuition will be paid by the students or their employers, according to Dandapani.
This is the first international education effort toward an advanced degree by the UCCS College of Engineering and Applied Science. The college has been an innovator in the use of technology to broaden its reach including the use of CISCO Telepresence to teach courses to students enrolled at southern Colorado community colleges. The Telepresence system will be evaluated for use in reaching students in India, Dandapani said, and the India project will serve as a test for possible future expansion to students in China and Brazil.