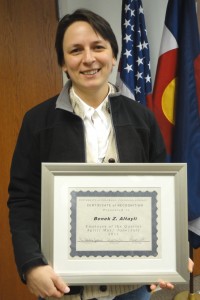 Benek Altayli, director, University Counseling Center, is the winner of this term's Employee of the Quarter award.
Altayli's duties at the counseling center include supervising interns, conducting one-on-one counseling sessions with students and being on call for crisis situations, as well as directing operations. Altayli, the interns, and one part time counselor take on duties usually performed by seven or more full time employees at most institutions the size of UCCS, noted Stephanie Hanenberg, director, Student Health Center, in her nomination letter.
Altayli also teaches courses, is a member of the Student Response Team, serves on the Emergency Preparedness Advisory Committee, and the Committee for Alcohol Awareness. She coordinates counseling center activities with the Student Health Center, Disability Services, and Public Safety.
She is a powerful advocate for outreach activities. Altayli speaks on domestic violence, brings individuals from outside agencies to UCCS to educate the campus community on mental health issues and has helped implement a program for counseling firefighters. Through the program, area firefighters get help dealing with post traumatic stress disorder and coping with their high-risk occupation.
Hanenberg nominated Altayli with high praise for taking initiative, working diligently, and stretching limited resources to do more than meet minimum requirements.
"I cannot think of another individual who has provided more service to this campus," Hanenberg said. "She is a true role model for what a strong work ethic is, and the campus would not be the same without her."
However, Altayli does not take individual credit. Upon receiving the award, she attributed her success to teamwork and a community spirit.
"It is a true honor to be selected for this award by people whom I admire and respect," she said.
"We, as the UCCS community, are a hard-working, close-knit group of people who have formed an incredible team to do what needs to be done for the best education and training, best research, and best services possible.
"Despite challenges, none of us are willing to sacrifice excellence in whatever we do, and this is a big part of who we are as a team. But I don't think this captures all of who we are. I have witnessed and experienced such support, compassion, and care for each other and our students that often we feel like family, too. Because of this interdependent nature of our community, whatever I do, and the successes I seem to achieve in my area cannot be entirely separate from those I work with. Therefore, this award is really a tribute to our community, to our team, and how well we 'fit' together. I am very grateful to each and everyone on this campus who make it a community I am proud to be a part of."
UCCS Employee of the Quarter recipients are classified or professional exempt employees who are recognized for exceptional service to the university. Award winners receive a certificate of recognition, a $100 stipend, three months free campus parking, and a day of administrative leave.
— Photo by Rhea Taylor