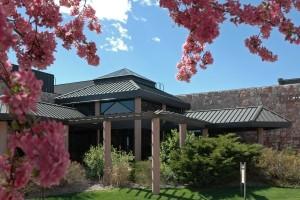 University Hall occupants will soon pack up for eight weeks away from their offices and classrooms as a $500,000 project to improve building safety gets underway.
Faculty, staff and students from the Beth-El College of Nursing will vacate University Hall the week of May 16 to make way for what University Architect Carolyn Fox calls "a lot of dust and noise."
The commotion is part of a $500,000 project to install fire sprinkler systems in about 50,000 square feet of the building along with reconfiguration of three classrooms and new emergency exit signs. The project was funded by the State of Colorado because of safety concerns.
"There was very little money provided by the state this year for improving buildings," Fox said. "That this project was funded is indicative of the importance of correcting several life safety issues within the building."
Purchased from Compassion International in 2002, University Hall currently contains fire sprinklers in only one-third of the building, an area primarily occupied by Theaterworks . The summer project will add sprinklers to the remainder of the building, add exits to classrooms, and improve emergency exit signs.
"UCCS is utilizing the building far differently than the uses it was constructed for," Fox said. "As a result, we need to make some changes to bring the building to code and to ensure a safe working and learning environment."
Crews from GH Phipps Construction will begin work May 23 with the goal of completing the project by July 18. Crews will install water lines above ceilings which will require drilling into concrete and generally creating so much havoc that summer classes could not be conducted in University Hall.
Summer nursing classes will now be conducted at the former Penrose Community Hospital on Academy Boulevard while faculty and staff members will work from home, from the Theaterworks area, or from temporary offices in Vail House in the student housing village.
"Everyone has been very cooperative," Fox said. "In all likelihood, no one will pay attention to the new sprinkler heads in the ceiling, the biggest expense of the project.  But if we ever have a fire, everyone will be really glad they are there."